MARIANNE (2011)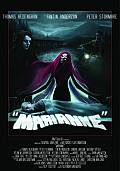 45-year-old Krister's wife, Eva, has just passed away in a car accident, and now he's alone with their 18-year-old daughter, Sandra, who hates his guts and a 6-month-old daughter he doesn't really know how to take care of.
At night he's haunted by bad nightmares about what happened the night Eva died and guilt for the pain he's caused Sandra over the years as an absent father. He experiences visits in his sleep from a woman dressed in green, looking for revenge. Someone who comes to him via his dreams. Someone he knows already is dead.
Sandra's boyfriend, who's interested in old Swedish folklore, soon realizes Krister is haunted by a Mare – a female creature of the night or a woman possessed. He tries to guide Krister by helping him get rid of her, while Krister tries to regain his family and reestablish some sort of order in his life. But having a bad reputation in a small town makes it hard to regain the trust of someone you've let down so many times before.
Krister finds himself in a jungle of guilt and anxiety, superstition and nightmares, mental and physical illness; and he has to find the best way out. Is the Mare real or only in his mind?
Original Title : MARIANNE
Director(s) :
Filip Tegstedt
Writer(s) :
Filip Tegstedt
Year : 2011
Country : Sweden
Langage : Swedish
Coulor : Color
Sound : Dolby Digital
Actors :
Thomas Hedengran - Krister
Peter Stormare - Sven
Tintin Anderzon - Eva
Sandra Larsson - Sandra
Dylan M. Johansson - Stiff
Viktoria Sätter - Marianne
Helena Löwenmark - Maran
Gudrun Mickelsson - Birgitta
Patrik Andersson - Gotharen
Maria Bergsten - Ankan
Peter Boija - Peter
Jonathan Bonin - Mattsson - Police
Stella Edling - Linnéa
Kerstin Hansson - Läkaren
Tim Netzler - Olle
Linus Persson - Mange
Saga Viljeståhl - Sandra - 10 years old

No comments.
All informations are coming from http://www.imdb.com
This page has been seen 581 times.