Filmography from : Mary Shelley
Writer :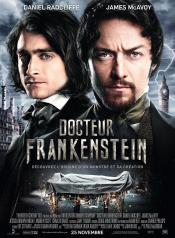 Docteur Frankenstein
,
Paul McGuigan
, 2015
James McAvoy and Daniel Radcliffe star in a dynamic and thrilling twist on a legendary tale. Radical scientist Victor Frankenstein (McAvoy) and his equally brilliant protégé Igor Strausman (Radcliffe) share a noble vision of aiding humanity through their groundbreaking research into immortality. But Victor's experiments go too far, and his obsession has horrifying consequences. Only Igor can bring his friend back from the brink of madness and...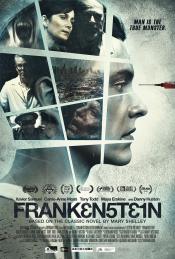 Frankenstein
,
Bernard Rose
, 2015
Set in present day Los Angeles and told entirely from the perspective of the Monster. After he is artificially created, then left for dead by a husband-and-wife team of eccentric scientists, Adam is confronted with nothing but aggression and violence from the world around him. This perfect creation-turned disfigured monster must come to grips with the horrific nature of humanity....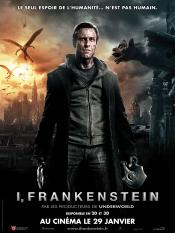 I, Frankenstein
,
Stuart Beattie
, 2014
Set in a dystopic present where vigilant gargoyles and ferocious demons rage in a battle for ultimate power, Victor Frankenstein's creation Adam (Aaron Eckhart) finds himself caught in the middle as both sides race to discover the secret to his immortality....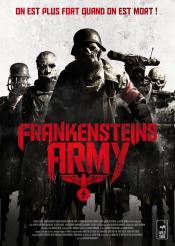 Frankenstein's Army
,
Richard Raaphorst
, 2013
Using shocking vintage newsreel footage as his jumping-off point, Raaphorst has hit on a unique and bold premise. Toward the end of World War II, Russian soldiers pushing into eastern Germany stumble across a secret Nazi lab, one that has unearthed and begun experimenting with the journal of one Dr. Victor Frankenstein. The scientists have used the legendary's Frankenstein's work to assemble an army of supersoldiers stitched together from...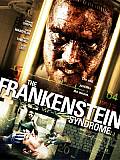 The Prometheus Project
,
Sean Tretta
, 2010
A beautiful young stem-cell researcher, Elizabeth Barnes (Tiffany Shepis; Nightmare Man, the Night of the Demons remake), joins a secret research group attempting to develop a stem-cell-based universal healing serum. Despite opposition from the project leaders Marcus Grone (Louis Mandylor, My Big Fat Greek Wedding) and Dr. Victoria Travelle (Patti Tindall, The Graves), she quickly develops a serum that can bring the dead back to life - but with...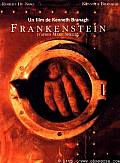 Frankenstein
,
Kenneth Branagh
, 1994
...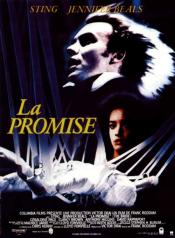 La promise
,
Franc Roddam
, 1985
Sting is doctor Frankenstein in this remake of the old classic film "Bride of Frankenstein". After years of research, the doctor finally succeeds in creating the perfect woman, who gets the name "Eva"....
Frankenstein junior
,
Mel Brooks
, 1974
...
Frankenstein et le monstre de l'enfer
,
Terence Fisher
, 1974
Last of the Hammer Frankenstein films, this one deals with the Baron hiding out in an insane asylum, so that he may continue his experiments with reanimating the dead, along with inmate Dr. Helder, who has been institutionalized for conducting such experiments. ...
Les Expériences érotiques de Frankenstein
,
Jesús Franco
(as Jess Franco), 1973
...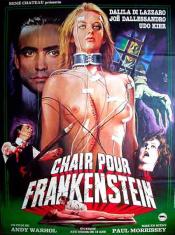 Chair pour Frankenstein
,
Paul Morrissey
,
Antonio Margheriti
(credited on some italian prints for quota purposes), 1973
In Serbia, Baron Frankenstein lives with the Baroness and their two children. He dreams of a super-race, returning Serbia to its grand connections to ancient Greece. In his laboratory, assisted by Otto, he builds a desirable female body, but needs a male who will be superbody and superlover. He thinks he has found just the right brain to go with a body he's built, but he's made an error, taking the head of a asexual aesthete. Meanwhile, the...
La malédiction de Frankenstein ou les expériences érotiques de Frankenstein
,
Jesús Franco
, 1972
Dracula kills another innocent victim and Dr. Seward decides it's time to wipe him off the face of the earth. Armed with a hammer and a wooden stake, he arrives at Castle Dracula and duly dispatches the vampire Count. Next day, however, Dr. Frankenstein arrives with his assistant, Morpho, and a large crate containing the monster. Using the blood of a pub singer who has been abducted by his creation, the doctor brings Dracula back to life and...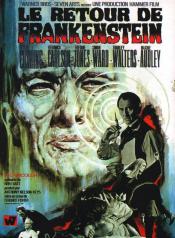 Le Retour de Frankenstein
,
Terence Fisher
, 1969
...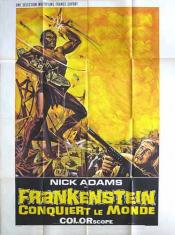 Frankenstein conquiert le monde
,
Ishirô Honda
, 1965
During WWII, a human heart taken from a certain lab in Europe (Dr. Frankenstein's) is kept in a Japanese lab, when it gets exposed to the radiation of the bombing of Hiroshima. The heart grows in size, mutates and sprouts appendages, and eventually grows into a complete body and escapes. Later, a feral boy with a certain physical deformity (a large head with a flat top) is captured by scientists who refer to the boy as Frankenstein. The creature...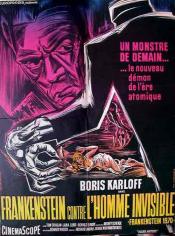 Frankenstein 1970
,
Howard W Koch
, 1958
...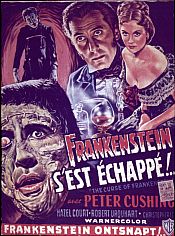 Frankenstein s'est échappé
,
Terence Fisher
, 1957
Victor Frankenstein builds a creature and brings it to life. But his creature behaves not as he intended. ...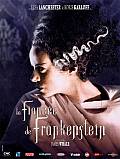 La fiancée de Frankenstein
,
James Whale
, 1935
Mary Shelley, author of "Frankenstein, or The Modern Prometheus," reveals to Percy Shelley and Lord Byron that Henry Frankenstein and his Monster did not die. Both lived, and went on to even stranger misadventures than before. As the new story begins, Henry wants nothing more than to settle into a peaceful life with his new bride. But his old professor, the sinister Dr. Pretorius, now disgraced, appears unexpectedly. Eventually, he and the...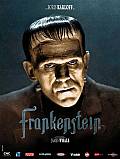 Frankenstein
,
James Whale
, 1931
Dr. Henry Frankenstein (Colin Clive) wants to build a man in his own image, using the body of a dead man. He and his assistent Fritz (Dwight Frye) dig up a freshly burried coffin and steal the body. When they realize the head and the brains of the body are severely damaged, they decide to steal a brain from Dr. Frankensteins former teacher Dr. Waldman (Edward van Sloan). When Fritz accidentely drops the glass jar with the label "good brain" on...
Frankenstein
,
J Searle Dawley
, 1910
Frankenstein, a young medical student, tries to create a perfect human being through alchemy, but only succeeds in creating a misshapen monster, who runs away. Frankenstein falls ill and is nursed by his sweetheart, only to be visited by the monster on his wedding night. In the struggle, the monster sees himself reflected in the mirror and, horrified, takes off into the night, but later returns. The lady's shrieks bring Frankenstein running,...
Actor :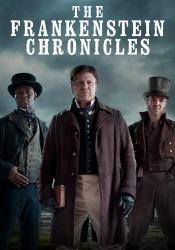 The Frankenstein Chronicles
,
Benjamin Ross
(6 episodes, 2015),
Alex Gabassi
(6 episodes, 2017), 2015
The show is a re-imagining of the Frankenstein story set in 19th-century London. After a successful operation by the Thames River Police to nab a gang of opium smugglers, a child's corpse is discovered. Inspector John Marlott (Bean) is horrified to discover that it's not actually a child, but a grotesque assembly of human body parts. We follow Marlott on the hunt for the killer behind this abomination, taking him into the dark corners of...
Hack!
,
Matt Flynn
, 2007
...
Highlander
,
Dennis Berry
(34 episodes, 1993-1998),
Paolo Barzman
(14 episodes, 1993-1997),
Richard Martin
(9 episodes, 1997-1998),
Clay Borris
(8 episodes, 1993-1994),
Thomas J Wright
(6 episodes, 1992),
Peter Ellis
(6 episodes, 1993-1996),
Ray Austin
(5 episodes, 1992-1993),
Mario Azzopardi
(5 episodes, 1994-1995),
Gérard Hameline
(5 episodes, 1996-1997),
Charles Wilkinson
(4 episodes, 1994-1997),
Adrian Paul
(4 episodes, 1995-1997),
Jorge Montesi
(3 episodes, 1992),
Robin Davis
(2 episodes, 1993),
Duane Clark
(2 episodes, 1995-1996),
James Bruce
(2 episodes, 1996),
Rafal Zielinski
(2 episodes, 1996),
René Manzor
(1 episode, 1993),
Daniel Vigne
(1 episode, 1993),
Bruno Gantillon
(1 episode, 1994),
Paul Ziller
(1 episode, 1994),
Jerry Ciccoritti
(1 episode, 1995),
Neill Fearnley
(1 episode, 1995),
George Mendeluk
(1 episode, 1995),
Yves Lafaye
(1 episode, 1996), 1992
...