Filmography from : Masaki Kurusu
Actor :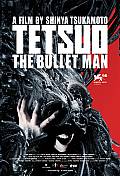 Tetsuo: The Bullet Man
,
Shin'ya Tsukamoto
, 2009
Calm office worker Anthony, son of an American father and a Japanese mother, lives in Tokyo with his wife, Yuriko, and their little son Tom. Since Anthony's mother died of cancer, his scientist father has been overly fearful for his son's and grandson's health and rigidly subjects Anthony and Tom to monthly physicals. Walking home one day, Tom is killed in a hit and run before Anthony's eyes. Losing their boy pushes Yuriko over the edge and...
Ai no mukidashi
,
Sion Sono
, 2008
Three emotionally abused individuals from the fringes of society get locked in a convoluted love triangle. Yuu, a Catholic boy searching for true love ends up taking "panty shot" photos of women in public until he discovers Yoko, whom he sees as his Virgin Mary. Yoko, an anti-family, misandrist girl finds that her foster mother will be marrying Yuu's father. Koike, an "original sinner" and the regional leader of a brainwashing cult, co-ordinates...