ABRAHAM LINCOLN: VAMPIRE HUNTER
MEDIA
- 4 new videos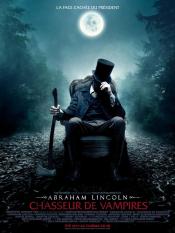 Here are 3 new clips and a featurette from
"ABRAHAM LINCOLN: VAMPIRE HUNTER"
, directed by
Timur Bekmambetov
and starring
Benjamin Walker
,
Dominic Cooper
,
Anthony Mackie
,
Mary Elizabeth Winstead
,
Jimmi Simpson
,
Robin McLeavy
,
Alan Tudyk
and
Rufus Sewell
. Opening in theater on June 22, the movie is based on the book by
Seth Grahame-Smith
, who also wrote the script.
Produced by
Tim Burton
, Bekmambetov and
Jim Lemley
, the film explores the secret life of our greatest president, and the untold history that shaped our nation. As a young boy, Abraham Lincoln (
Benjamin Walker
) witnesses the shocking death of his mother, leading him on a path to an ongoing war - and ultimately to the presidency - he chronicles in a hidden diary. The journal reveals the incredible story of a clandestine warrior who never stopped fighting for the country he led and the people he loved.
Train escape :
Waltz of death :
Real power :
Les origines d'un super-héros VOSTF :
Synopsis : Abraham Lincoln: Vampire Hunter explores the secret life of our greatest President, and the untold story that shaped our nation. Visionary filmmakers Tim Burton and Timur Bekmambetov (director of Wanted) bring a fresh and visceral voice to the blood-thirsty lore of the vampire, imagining Lincoln as history's greatest hunter of the undead.
French Release : 2012-08-08 - US Release : 2012-06-22
Source : Bloody Disgusting
No comments.