CARRIE
MEDIA
Gabriella Wilde's Sue Snell Spotted on the Set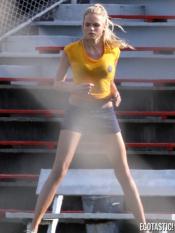 Kimberly Peirce
's
"CARRIE"
remake is currently shooting in Toronto and Egotastic (via ShockTillYouDrop.com) managed to grab some shots of
Gabriella Wilde
's character, Sue Snell.
Released in 1974,
"CARRIE"
was
Stephen King
's first published novel and tells the story of a high school girl who, through telekinetic powers, takes revenge on peers that have mocked her. Though
Brian De Palm
a directed a highly-acclaimed film version in 1976,
Chloe Moretz
says that Peirce's take sticks more closely to King's text.
"I'm actually not looking at the original,"
Moretz told ComingSoon.net in an interview earlier this year,
"even though De Palma's movie was one of the best movies ever made. It's completely iconic and I'm proud to be able to be doing a retooling of it. We're kind of going off the book. It's darker and much more psychological. More 'Black Swan.' You're really looking into her mind and it really looks into the relationship of Margaret and Carrie. It's set in modern time, so it's a lot different."
Julianne Moore
,
Judy Greer
,
Portia Doubleday
and
Ansel Elgort
co-star in the film which is expected to hit theaters on March 15, 2013.
More photos on Egotastic
Synopsis : The quiet suburb of Chamberlain, Maine is home to the deeply religious and conservative Margaret White (Moore) and her daughter Carrie (Moretz). Carrie is a sweet but meek outcast whom Margaret has sheltered from society. Gym teacher Miss Desjardin (Greer) tries in vain to protect Carrie from local mean girls led by the popular and haughty Chris Hargenson (Portia Doubleday), but only Chris' best friend, Sue Snell (Gabriella Wilde), regrets their actions. In an effort to make amends, Sue asks her boyfriend, high school heartthrob Tommy Ross (Ansel Elgort), to take Carrie to prom. Pushed to the limit by her peers at the dance, Carrie unleashes telekinetic havoc. Brian De Palma's 1976 film version of "Carrie" earned Oscar nominations for stars Sissy Spacek and Piper Laurie.
French Released : 2013-12-04 - US Released : 2013-10-18
Source : ComingSoon.net / Egotastic
No comments.