MARA
MEDIA
New trailer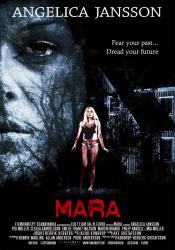 The Swedish chiller
"MARA"
is finally ready for delivery -- and the brand new trailer is here. The English version is found here:
Making her feature film acting debut, popular Swedish model Angelica Jansson stars as Jenny, who as a little girl witnessed a brutal, gruesome murder. An utterly grotesque act committed by an insane woman. A violent deed that has forever scarred Jenny.
Along with four friends, Jenny -- now an adult -- returns to the scene where the murder was committed: a picturesque but secluded house in the woods. The five friends intend to have a nice time and to party, but the stay is also supposed to serve as therapy for Jenny. She wants to confront her past.
What was supposed to be a relaxing weekend in the countryside becomes a blood-soaked nightmare when it turns out that the five friends aren't alone in the house. An intruder is hiding in the shadows. Somebody unknown is out for Jenny, who desperately has to fight for her life.
Nothing is as it seems in the psychological horror-thriller
"MARA"
, the first production from Filmkoncept Scandinavia. The company's basic idea is to produce high quality, cost-effective genre product; high technical craftmanship on small-scale budgets.
"MARA"
is written, produced and directed by
Fredrik Hedberg
,
Åke Gustafsson
and
Jacob Kondrup
; the founders of Filmkoncept Scandinavia.
Synopsis : Jenny (Angelica Jansson) is a young woman with a dark past. During her childhood she witnessed something terrifying that scarred her for life. Now, ten years later years later, Jenny has created a new life of her own.

In the last days of summer in the deep, dark woods of Sweden, Jenny and four friends gather in a cozy cottage for a weekend of partying, fun, and relaxation. This abruptly ends when Jenny wakes up in the morning to find herself alone in the cottage. Thinking that her friends are playing a prank on her, she goes searching for them -- but they are gone without a trace. Yet, where would they go in the middle of the woods? And why is the car still parked out front?

Jenny spends a torturous day waiting for her friends to return. As darkness once again engulfs the cottage, Jenny must face the fact that she has been left alone. In the darkness. In the middle of nowhere. Or has she?

Is she really all alone?

No. SomeTHING is out there in the woods. A ghost, perhaps. Or a creature. Or somebody from Jenny's frightening past. As the night grows darker, shadowy figures haunt the cottage. Unrecognizable voices whisper Jenny's name. Nightmares come to life. Is Jenny losing her mind?

Evil closes in as the story reaches its blood-soaked, twisted conclusion. Fear your past. Dread your future.
Source : Oh My Gore !
No comments.