PARANORMAL ACTIVITY 4
MEDIA
The Trailer is Online!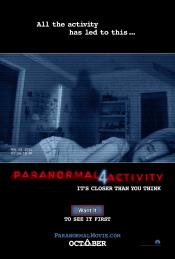 Paramount has finally released the trailer for
"PARANORMAL ACTIVITY 4"
, opening October 19th.
This entry is once again directed by
"PARANORMAL ACTIVITY 3"
helmers
Henry Joost
and
Ariel Schulman
.
Boasting the tagline "All of the activity has led to this" it appears the series is back on the forward momentum track, picking up where part two left off (three, as it turned out, was a prequel).
Synopsis : It has been five years since the disappearance of Katie and Hunter, and a suburban family witness strange events in their neighborhood when a woman and a mysterious child move in.
French Release : 2012-10-31 - US Release : 2012-10-19
Source : ComingSoon.net
No comments.