RED LIGHTS
MEDIA
- Official trailer and character posters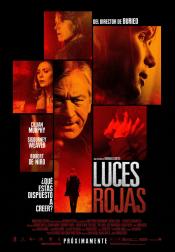 Millenium Entertainment has released the official theatrical trailer for
"RED LIGHTS"
, which is going to open on July 13th.
The thriller, starring
Robert De Niro
,
Sigourney Weaver
,
Cillian Murphy
and
Elizabeth Olsen
, was written and directed by
"BURIED"
's
Rodrigo Cortés
.
Synopsis : Two paranormal fraud investigators, the veteran Dr. Margaret Matheson (Weaver) and her young assistant, Tom Buckley (Murphy), study the diverse phenomena of metaphysics with the intention to demonstrate its fraudulent origin. Simon Silver (De Niro), a legendary psychic, perhaps the most famous gifted of all time, returns after thirty years of mysterious absence to become the world's greatest challenger to orthodox science and professional skeptics. Tom begins to develop a dense obsession to silver, whose magnetism is enhanced dangerously with each new manifestation of inexplicable dark phenomena.
US Release : 2012-07-13
Click on thumbnail to enlarge :
Source : ShockTillYouDrop
No comments.