RIDDICK
MEDIA
Vin Diesel Shares a Rainy Still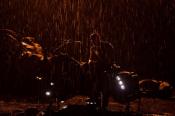 Vin Diesel
is back on his official Facebook page and has shared a new still from the upcoming
"RIDDICK"
.
Universal's R-rated sci-fi action film co-stars
Karl Urban
,
Jordi Molla
,
Matt Nable
,
Katee Sackhoff
,
Bokeem Woodbine
,
Dave Bautista
,
Conrad Pla
,
Raoul Trujillo
,
Nolan Funk
and
Keri Hilson
.
In the film, written and directed by
David Twohy
, the infamous Riddick has been left for dead on a sun-scorched planet that appears to be lifeless. Soon, however, he finds himself fighting for survival against alien predators more lethal than any human he's encountered...
"RIDDICK"
hits theaters September 6, 2013.
Synopsis : Betrayed by his own kind and left for dead on a desolate planet, Riddick (Diesel) fights for survival against alien predators and becomes more powerful and dangerous than ever before. Soon bounty hunters from throughout the galaxy descend on Riddick only to find themselves pawns in his greater scheme for revenge. With his enemies right where he wants them, Riddick unleashes a vicious attack of vengeance before returning to his home planet of Furya to save it from destruction.
French Release : 2013-09-18 - US Release : 2013-09-06
Source : comingsoon.net
No comments.