MEDIA
Teaser Trailers for "THE HUMAN CENTIPEDE 2 (FULL SEQUENCE)"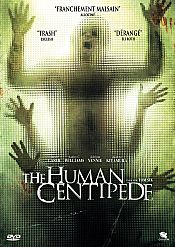 IFC Films has debuted the domestic teasers trailer for
"THE HUMAN CENTIPEDE 2 (FULL SEQUENCE)"
, which will have its world premiere at the this month's Fantastic Fest before hitting theaters on October 6.
Writer/director
Tom Six
's follow-up is the story of a man who becomes sexually obsessed with a DVD recording of the first film in the series,
"THE HUMAN CENTIPEDE"
, and uses sandpaper to pleasure himself whilst watching the film. He decides to create a "human centipede" of his own, this time comprised of twelve victims as opposed to the first film's three.
Read our french
"THE HUMAN CENTIPEDE" movie review
.
Synopsis : artin is a mentally disturbed loner who lives with his mother in a bleak housing project. He works the night shift as a security guard in an equally grim and foreboding underground parking complex. To escape his dreary existence, Martin loses himself in the fantasy world of the cult horror film The Human Centipede (First Sequence), fetishizing the meticulous surgical skills of the gifted Dr. Heiter, whose knowledge of the human gastrointestinal system inspires Martin to attempt the unthinkable. Written by Six Entertainment Company.
No comments.