THE WALKING DEAD
MEDIA
New Trailer for The Walking Dead Season 3.5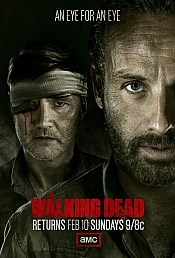 "THE WALKING DEAD"
returns from hiatus in a few weeks with the remaining eight episodes of Season 3. Here's a new trailer for the upcoming back-half with all new footage from the remainder of the season.
With his group in tatters, his sanity in question, and his own son questioning his every move, Rick must somehow pull everyone together to face their greatest challenge -- the Governor. In order to survive, he must risk everything, including the group's very humanity.
Based on the comic book series written by
Robert Kirkman
and published by Image Comics,
"THE WALKING DEAD"
stars
Andrew Lincoln
,
Laurie Holden
,
Steven Yeun
,
Norman Reedus
,
Chandler Riggs
,
Lauren Cohan
,
Scott Wilson
,
Melissa McBride
,
Chad Coleman
,
David Morrissey
and
Danai Gurira
.
Synopsis : Police officer Rick Grimes leads a group of survivors in a world overrun by zombies.
French Release : 2011-03-20 - US Release : 2010-10-31
Source : comingsoon.net
No comments.