Filmography from : Mel Churcher
Actor :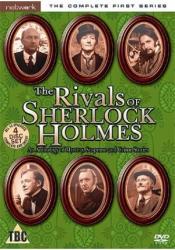 The Rivals of Sherlock Holmes
,
Jonathan Alwyn
(7 episodes, 1971-1973),
Alan Cooke
(3 episodes, 1971),
Jim Goddard
(3 episodes, 1971),
Graham Evans
(2 episodes, 1971-1973),
Derek Bennett
(2 episodes, 1973),
Reginald Collin
(2 episodes, 1973),
Bill Bain
(1 episode, 1971),
Piers Haggard
(1 episode, 1971),
Kim Mills
(1 episode, 1971),
Mike Vardy
(1 episode, 1971),
Peter Duguid
(1 episode, 1973),
Don Leaver
(1 episode, 1973),
Dennis Vance
(1 episode, 1973), 1973
This British TV series, shot almost entirely on videotape, dramatized short mystery fiction by authors who were contemporaries of Sir Arthur Conan Doyle. Many of these authors were virtually unknown to modern audiences, although all of the detectives portrayed had appeared in popular ongoing series of short stories or novels. "Rivals" featured the only dramatizations to date of such period characters as Jacques Futrelle's "The Thinking Machine"...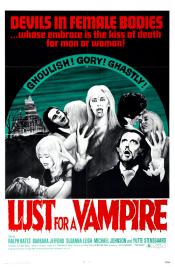 Lust for a Vampire
,
Jimmy Sangster
, 1971
In 1830, forty years to the day since the last manifestation of their dreaded vampirism, the Karnstein heirs use the blood of an innocent to bring forth the evil that is the beautiful Mircalla - or as she was in 1710, Carmilla. The nearby Finishing School offers rich pickings not only in in the blood of nubile young ladies but also with the headmaster who is desperate to become Mircalla's disciple, and the equally besotted and even more foolish...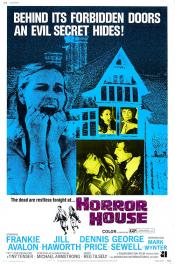 The Haunted House of Horror
,
Michael Armstrong
, 1969
A group of sixties teenagers bored with the party they're at drive out to a deserted old mansion, but their laughter turns to fear when one of them is killed in a frenzied knife attack. Another of them persuades the rest that they should solve the murder themselves rather than go to the police, not surprisingly opening the way to further carnage. ...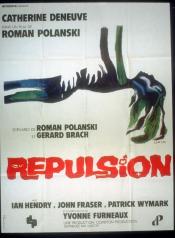 Repulsion
,
Roman Polanski
, 1965
A Belgian girl, Carol, works as a manicurist at a London beauty salon. While having lunch, a good looking young man, Colin, spots her and makes a date for another evening. She shares a flat with her sister Helen. Her sister's married lover, Michael, brings out her dislike of men which she cannot explain to Colin. Michael takes Helen abroad for a holiday. Left alone in their flat, Carol's moments of catalepsy and hallucination increase and deepen...