Interview with Zero Delorean - February 2004

1. Oh My Gore : "Which is your favourite movie and why ?"
"HEDWIG AND THE ANGRY INCH". Some of my good friends are drag queens plus the music is outstanding. "THE SOUTH PARK MOVIE" always makes me laugh. "RETURN OF THE LIVING DEAD" is a perfect blend of humor and horror. "HOUSE OF 1.000 CORPSES" was also very good. Creepy characters, sympathetic victims and victims that made you want to see them die. "FRANKENSTEIN" with Boris Karloff is the best. I loved that monster, hated the villagers. It's hard to pick a favorite...
2. Oh My Gore : "Which is the movie that you disliked the most and why ?"
I can usually find something to like in every horror film. On the other hand, I really disliked both "THE PHANTOM MENACE" and "ATTACK OF THE CLONES". I know neither is a horror movie but both movies are horrors. Each movie was a huge disappointment for the same reasons. Both were poorly cast and written. All the actors seemed to have lost the ability to act, the story was incredibly boring and the special effects were unconvincing. I've seen more chemistry between actors in television commercials than what existed between Hayden Andersen and Natalie Portman. They might as well have been cut out from cardboard.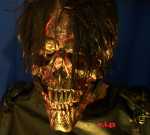 3. Oh My Gore : "Who is your favourite director and why ?"
I like Quentin Tarantino because his movies are a little weird, they always have interesting characters and there are twists in the plot to keep things unpredictable. He can tell a nicely fucked-up story...
4. Oh My Gore : "Who is your favourite actor and why ?
Boris Karloff, Bela Lugosi and Lon Chaney. They were the masters. They specialized in portraying monsters when the cinema was still an art form, the concept of a formula movie was still in the future. Actors who play monsters now are not held in such high regard. For mainstream cinema I usually enjoy John Travolta's work, unless it's a film involving talking babies and dogs...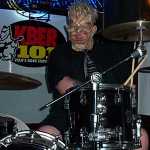 5. Oh My Gore : "Which scene scared you the most ?"
I can't narrow it down to a single scene, however the carousel scene from "LOGAN'S RUN" was good. Everyone believing they would reincarnate when really it was all a method of population control. I enjoyed the surreal boatride scene from "WILLY WONKA & THE CHOCOLATE FACTORY". That movie was not made for children. I Loved the musical number "KYLE'S MOM'S A BITCH" from "THE SOUTHPARK MOVIE". "EVIL DEAD" where Ash's hand attacks him. In "DAY OF THE DEAD" where Bub the zombie says "Hello Aunt Alicia" into the phone, thus demonstrating that an old zombie can be taught new tricks. "THE SHINING" when Jack Nicholson flips out "all work and no play"...
6. Oh My Gore : "Which band, according to you, symbolizes horror the best ?"
Alice Cooper symbolizes horror the best. His stage show is always theatrical, a feast for the eyes, his lyrics are often darkly humorous and he knows how to set a mood musically. He is the original horror rocker and his good albums are classics. His newest album is the best he's put out in years!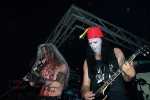 7. Oh My Gore : "Which original Soundtrack do you like the most ?
It's hard to choose just one,"CONAN THE BARBARIAN" and the original 1933 score to "KING KONG" are very atmospheric. Can't forget the music from "HALLOWEEN" and "ALIEN". I enjoyed the soundtrack to "HEDWIG AND THE ANGRY INCH".
8. Oh My Gore : "Which movie poster do you like the most ?
The movie poster for "LOGAN'S RUN" (1976). It reflects the 70's pop art style perfectly. A true work of art. Any poster for the old Universal Studios monster films is also good, like "CREATURE FROM THE BLACK LAGOON" or "FRANKENSTEIN".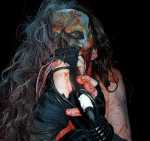 9. Oh My Gore : "Freddy or Jason ?"
Jason because he cannot be stopped, he's a Juggernaut. Silently, relentlessly he keeps on coming until everyone is dead. His silence allows the terror to set in. Freddy is all lame one-liners. He's gotten less scary and more stupid with each movie. Freddy has to catch you when you are sleeping and to escape you just wake up, Jason will fuck you up awake or asleep.
10. Oh My Gore : "What do you think about Oh My Gore ! ?"
Horror fans can rejoice because Oh My Gore is fantastic!
If it's horror you're looking for then Oh My Gore is the place to go!
http://www.diemonsterdie.net
- YOUR COMMENTS -
Be careful, every litigious comments will be deleted.

No comments.
Leave your comment