MIENTRAS DUERMES (2011)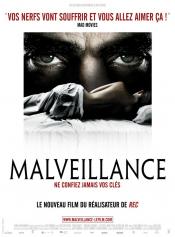 Cesar works as a doorman in a Barcelona apartment building. Happiness eludes him, and he feels the need to reaffirm his reasons for living on a daily basis. He goes about his day-to-day work mainly unnoticed by the residents of the building, but he pays close attention to them. He knows all the intimate details of their lives, everything about them, especially one of them. Clara is a happy-go-lucky young woman, who always looks on the positive side of things. Her cheery attitude to life makes Cesar's skin crawl. He won't be happy until he has wiped that smile off her face once and for all because Cesar feeds off other people's pain. He delights in the unhappiness and anguish of others, and he loves nothing more than to plant the seed of misery and watch it grow. In Clara he has found the perfect target, and he will go to extreme lengths to make her life miserable. But Cesar is starting to get a bit too cocky, and soon his carefully thought out plans will start to unravel… Luckily for him, he has one last ace up his sleeve.
Original Title : MIENTRAS DUERMES
Director(s) :
Jaume Balagueró
Writer(s) : Alberto Marini (screenplay)
Genre(s) : Drama | Horror | Thriller
Length : 102 min
Year : 2011
Country : Spain
Langage : Spanish
Coulor : Color
Ratio : 235 : 1
Sound : Dolby Digital
French Release : 2011-12-28
US Release : 2013-02-15
Aka(s) :
(original title) - Mientras duermes
Brazil - Enquanto Você Dorme
Germany - Sleep Tight
Spain (working title) - Flatmate
France - Malveillance
Greece (transliterated ISO-LATIN-1 title) - O thyroros
Greece - Ο θυρωρός
Croatia (festival title) - Slatko spavaj
Hungary - Amíg alszol
Italy - Bed Time
Poland - Slodkich snów
Portugal - Enquanto Dormes
Serbia - Lepo spavaj
Russia - Крепкий сон
Slovenia - Medtem ko si spala
Turkey (Turkish title) - Ölüm Uykusu
World-wide (English title) - Sleep Tight
Actors :
Cast 
Luis Tosar César
Marta Etura Clara
Alberto San Juan Marcos
Petra Martínez Sra Verónica
Iris Almeida Úrsula (as Iris Almeida Molina)
Carlos Lasarte Vecino 4ºB
Amparo Fernández Mujer de la limpieza
Roger Morilla Joven de la limpieza
Pep Tosar Padre de Úrsula
Margarita Rosed Madre de César (as Margarita Roset)
Ruben Ametllé Trabajador Oficina 1
Manel Dueso Comisario (as Manuel Dueso)
Tony Corvillo Policía 1
Ricard Sadurní Policía 2
Xavier Pujolràs Policía 3
Oriol Genís Administrador
Iker López Hermano de Úrsula
Dolors Vidal Madre de Clara (as Lola Vidal)
Patricia Arredondo Criada
Xavier Calvet Trabajador Oficina 2
Gemma Nierga Radio de madrugada (voice)
Carles Pérez Radio despertador (voice)
No comments.
All informations are coming from http://www.imdb.com
This page has been seen 3807 times.