Filmography from : Mihai Dinvale
Actor :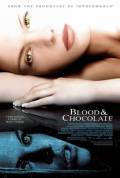 Le goût du sang
,
Katja von Garnier
, 2007
In Bucharest, Romania, the orphan Vivian was raised by her aunt after losing her parents ten years ago in the Rocky Mountains, Colorado. His family belongs to a bloodline of werewolves and Vivian is promised to the leader of the pack, Gabriel. When the American cartoonist Aiden, who is researching werewolves for his publisher for the next edition of his magazine, meets Vivian, they immediately fall in love for each other. However, the evil son...
Future cop 4
,
David Nutter
, 1994
Jack is now back in the future. He had since lost Lena, and finds out that he's lost his other wife Alice to none other than Harris. While heading out for another assignment, something goes awry with the TCL chamber. Jack finds himself in a whole new dimension. He also runs across a different version of trancers. These guys seem to be in control of this planet. Jack manages to assist a rebel group known as the "Tunnel Rats" crush the rule of the...
Future cop 5
,
David Nutter
, 1994
Jack's back for one more round with the Trancers. Jack Deth must attempt to find his way home from the other-dimensional world of Orpheus, where magic works and the Trancers were the ruling class (before Trancers 4, that is). Unfortunately, Jack's quest to find the mystical Tiamond in the Castle of Unrelenting Terror may be thwarted by the return of Caliban, king of the Trancers and once thought dead....