Filmography from : Nick De Ruiz
Actor :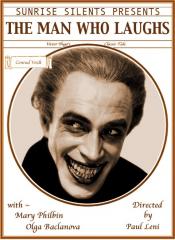 The Man Who Laughs
,
Paul Leni
, 1928
In 1690, in England, the nobleman Lord Clancharlie returns from his exile to see his young son. The peer is captured by the cruel King James II and before being killed, he is informed that his beloved son had been sold to the gypsies Comanchicos that carved a permanent grin on his face. The Cormanchicos abandon the boy in the cold snowing winter, and while looking for shelter, he finds a baby hold in the arms of her dead mother. He brings the...
The Unknown
,
Tod Browning
, 1927
...
The Hunchback of Notre Dame
,
Wallace Worsley
, 1923
Clopin bought Esmeralda from the gypsies when she was young. Dancing in the square at the festival, Esmeralda is spotted by Jehan, the evil brother of the good archdeacon Claude Frollo. When he sets Quasimodo out to kidnap Esmeralda, Phoebus, Captain of the Guards, rescues her and captures Quasimodo. The courts sentence Quasimodo to be flogged, and the only one who will give him water while he is tied in the square is Esmeralda. After Clopin...