Filmography from : Norman Kerry
Actor :
The Unknown
,
Tod Browning
, 1927
...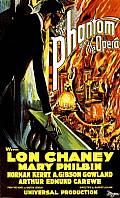 The Phantom of the Opera
,
Rupert Julian
,
Lon Chaney
(uncredited),
Ernst Laemmle
(uncredited),
Edward Sedgwick
(uncredited), 1925
At the Opera of Paris, a mysterious phantom threatens a famous lyric singer, Carlotta and thus forces her to give up her role (Marguerite in Faust) for unknown Christine Daae. Christine meets this phantom (a masked man) in the catacombs, where he lives. What's his goal ? What's his secret ?...
The Hunchback of Notre Dame
,
Wallace Worsley
, 1923
Clopin bought Esmeralda from the gypsies when she was young. Dancing in the square at the festival, Esmeralda is spotted by Jehan, the evil brother of the good archdeacon Claude Frollo. When he sets Quasimodo out to kidnap Esmeralda, Phoebus, Captain of the Guards, rescues her and captures Quasimodo. The courts sentence Quasimodo to be flogged, and the only one who will give him water while he is tied in the square is Esmeralda. After Clopin...