Filmography from : Olivia Francessca
Actor :
A Broken Code
,
Josh Webber
(as Josh Abraham Webber),
Michael Girgenti
(co-director), 2012
Two brothers Carmelo and Gino (Girgenti and Webber) are raised by their mob boss grandfather Salvatore Gianni (Williams). Through a series of events Salvatore is killed and the boys then go on a journey to find the killers. No one is ruled out as a suspect, including one of the brothers. How will the truth unfold?...
Deadly Karma
,
Joel Paul Reisig
, 2011
A group of high school teens shake the life of a socially different peer named "Sammy" (Jordon Hodges) at school, driving him deeper and deeper into his mental state. Sammy eventually snaps, but none of the gang sees the ripple of the quake until five years later. With a final showdown between what is and what isn't and a struggle between life and death. Whatever you do in life will sometimes kill you....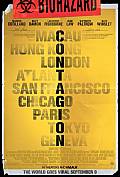 Contagion
,
Steven Soderbergh
, 2011
Contagion follows the rapid progress of a lethal airborne virus that kills within days. As the fast-moving epidemic grows, the worldwide medical community races to find a cure and control the panic that spreads faster than the virus itself. At the same time, ordinary people struggle to survive in a society coming apart....