Filmography from : Pat O Brien
Actor :
Scooby-Doo 2: Monsters Unleashed
,
Raja Gosnell
, 2004
...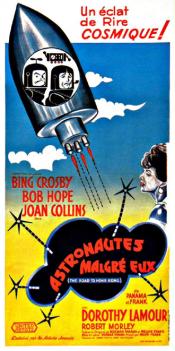 The Road to Hong Kong
,
Norman Panama
, 1962
Bob Hope and Bing Crosby return as Con-men Chester Babcock and Harry Turner, in the last of their road movies. When Chester accidentally memorizes and destroys the only copy of a secret Russian formula for a new and improved rocket fuel, they are thrust into international intrigue, trying to stay alive, and keep the formula out of enemy hands....
The Boy with Green Hair
,
Joseph Losey
, 1948
Peter Frye, typical American boy, is orphaned when his parents are caught in the London Blitz. He is not told of their fate, but shuttled from one selfish relative to the next, ending with "Gramp," a kindly ex-vaudevillean. Peter and Gramp, both fond of "Irish bulls," get along fine; but the morning after Peter finally learns he's an orphan, his hair spontaneously turns green! The absurd over-reactions of stupid people overturn his life as the...
Hell's House
,
Howard Higgin
, 1932
immy Mason idolizes bootlegger Matt Kelly who is dating Peggy. Unwilling to squeal on his idol, Jimmy winds up in a cruel reformatory where a new- found friend is dying from abuse. Jimmy escapes to report the abuse. Matt and Peggy help him once he has escaped....