Filmography from : Patrizia Milano
Actor :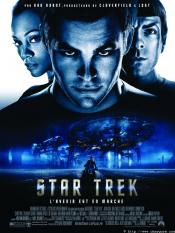 Star Trek
,
JJ Abrams
, 2009
From the first scene the Star Trek universe as we knew it has changed forever. Kirk is now an angry wayward young man looking for trouble. He fights with Starfleet cadets in Iowa when a Capt. Pike takes an interest in him, finding out he's the only 'genius level repeat offender in the Midwest'. Pike dares Kirk to join Starfleet, goading him with the legacy of his father. A young Spock is tortured over his mixed heritage, the emotions he fights...
House of Flesh Mannequins
,
Domiziano Cristopharo
, 2009
Sebastian, a loner artist, photographer and filmmaker spends his days in the seediness of life's elements. Taking pictures, photographing violent acts and spending a lot of time watching homemade films filled with jarring imagery, Sebastian also happens to be his building's landlord. He has also suffered an abused childhood, being subjected to sleep deprivation and constant home videos. Things begin to change for him when apartment tenant, Sarah...