Filmography from : Peter Chung
Director :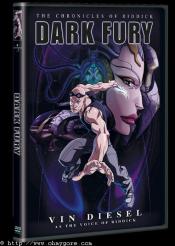 The Chronicles of Riddick: Dark Fury
,
Peter Chung
, 2004
After surviving the eclipse in "PITCH BLACK", Riddick and his friends (Himam and Jack) are caught by a princess who collects the human trophies and who wants our hero as a masterpiece. But the three survivors of the previous movies won't let her do and will fight to get out of this trap....
Writer :
Æon Flux
,
Karyn Kusama
, 2005
In the Century XXV, a virus exterminated most of the population of Earth, and the last city is Bregna, which is ruled by Trevor Goodchild (Marton Csokas) and protected by wall from the outside world. A resistance group entitled Monicans and led by The Handler (Frances McDormand), assigns the assassin Aeon Flux (Charlize Theron) to kill Trevor and overthrow the government. However, Aeon Flux discloses a scheme plotted by Oren Goodchild (Jonny Lee...