Filmography from : Philip Howard
Actor :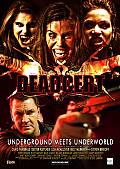 Dead Cert
,
Steven Lawson
, 2010
A gang of tough London gangsters get more than they bargained for when a group of businessmen make an offer to buy their club, the Inferno. They turn out to be nothing less than Vampires wanting their land back and turn viciously on the gangsters when their demands are not met....
The Firm
,
Nick Love
, 2009
Dom, a young wannabe football casual, who gets drawn into the charismatic but dangerous world of the firm's top boy, Bex. Accepted for his fast mouth and sense of humor, Dom soon becomes one the boys. But as Bex and his ICF gang clash with rival firms across the country and the violence spirals out of control, Dom realizes he wants out - until he learns it's not that easy to simply walk away. ...