RAT KING (2012)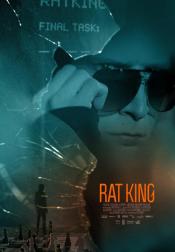 Juri, 18, is seriously addicted to online gaming, so much so he becomes isolated from his single mother and his girlfriend is about to leave him. He decides to quit but is soon lured back by one of his net-mates, Niki, also 18, who, when they meet for the first time, turns out to look strikingly like Juri. Niki has a web address tattooed on his arm, and when Juri types it into his computer, he gets lured into a curious game that grants him the username RAT KING. As the game becomes increasingly dangerous, Niki vows to help Juri get through it. But the game triggers a series of life-threatening events, and pretty soon Juri realizes that he is gaming for his life.
Original Title : RAT KING
Director(s) :
Petri Kotwica
Writer(s) : Petri Kotwica (written by), Iiro Küttner (written by) (uncredited)
Genre(s) : Drama | Thriller
Length : 94 min
Year : 2012
Country : Finland | Estonia
Langage : Finnish
Coulor : Color
Ratio : 235 : 1
Aka(s) :
Germany (festival title) - Rattenkönig
Actors :
 
Max Ovaska Jury
Julius Lavonen Niki
Outi Mäenpää Mother
Janne Virtanen Salo
Niina Koponen Mia
Miika Ullakko Luke
Maarja Jakobson German teacher
Külliki Saldre Principal
Kene Vernik Sari
Kadri Kilp Pet shop clerk
Camilla O'Connor Nurse
Oliver Rauam Jokke
Marten Tall Jamppa
Ville Tiihonen (voice)
Kirsti Väänänen (voice) (as Kirsti Valve)
No comments.
All informations are coming from http://www.imdb.com
This page has been seen 670 times.