Filmography from : Ren Osugi
Actor :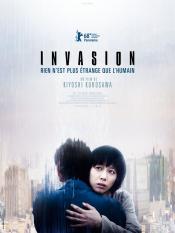 Yocho
,
Kiyoshi Kurosawa
, 2017
Miyuki is seeing apparitions at home and worrying her friend Etsuko. It is time for Miyuki to see a shrink. Etsuko's husband is Tatsuo and comes across something no one would believe, a doctor apparently not of this earth. Etsuko must battle on more than one front to save the earth, her loved ones and her sanity....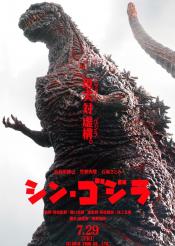 Shin Gojira
,
Hideaki Anno
,
Shinji Higuchi
(co-director), 2016
...
Ten no Chasuke
,
SABU
(as Hiroyuki Tanaka), 2015
...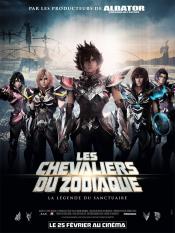 Seinto Seiya: Legend of Sanctuary
,
Kei'ichi Sato
, 2014
Warriors called "Saints" are the champions of hope who have always appeared since the Age of Myth whenever evil threatens the world. In this present day story, many years since the long fought "Holy War" we find Saori Kido, a girl troubled by her mysterious powers. She is saved by a boy, Seiya "Bronze Saint" from a sudden attack by an assassin, through the accident Saori realizes her destiny and mission and decides to go to "Sanctuary" with...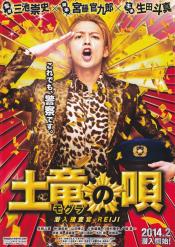 Mogura no uta: Sennyuu sousakan Reiji
,
Takashi Miike
, 2013
Reiji Kikukawa, who has a strong sense of justice, graduated from the police academy with the lowest score ever. He becomes a police constable, but is suddenly fired by the Police Chief due to "disciplinary" issues. In actuality, the firing is part of a carefully orchestrated plan. Reiji is ordered to become a "mole," an undercover cop. His target is Shuho Todoroki, the boss of the Sukiyakai gang. The group is the largest crime group in the...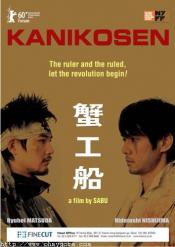 Kanikôsen
,
SABU
, 2009
...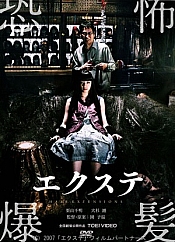 Ekusute
,
Sion Sono
,
Joe DiGiorgi
(english voice director),
Tony Salerno
(english voice director), 2007
What if extensions carried the grudge of the individual to which the hair originally belonged and started attacking people wearing it at random? Customs agents discover a huge amount of human hair used as materials for 'hair extensions' along with the dead body of a young girl with a shaved head. With the corpse being soon transported by the police, the results of the autopsy determine that the woman's internal organs have been harvested. The...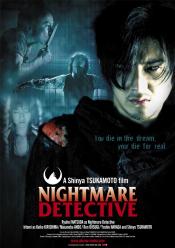 Akumu tantei
,
Shin'ya Tsukamoto
, 2006
Three people in Tokyo take a surreal voyage of self-discovery through memory and nightmares. "O" intends suicide while talking on a cell-phone with a stranger he meets on line who plans a simultaneous suicide. Events take a horrifying turn. Keiko Kirishima is a cool, seemingly emotionless police detective, brilliant but off-putting. She's faced with two mutilated corpses who appear to have killed themselves, but she's not sure. A cell-phone...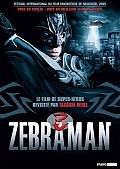 Zebraman
,
Takashi Miike
, 2004
Being a failure as a teacher and a familyman, Shinichi tries to escape everyday live by dressing up as "Zebraman", the superhero. Although the TV series whas canceled after only 6 episodes, this cannot stop him from acting out his escape fantasy in a self made zebra-suit. He get's more then he could ever wish for, when his black-and-white dressed alter-ego seems to be the only thing to stand between absolute (green) evil and a happy ending. ...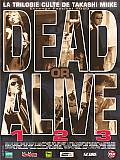 Dead or Alive 2: Tôbôsha
,
Takashi Miike
, 2000
Two contract killers cross paths in the middle of the same job and realize they are childhood friends. Together they take a break from killing and visit the small island they once called home. After reflecting on their past lives they decided to team up and use their talents in killing for good... much to the upset of the crime syndicates....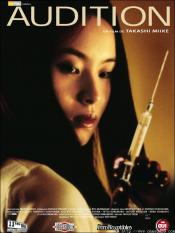 Ôdishon
,
Takashi Miike
, 1999
A lonely Japanese widower whose son is planning to move out of the house soon expresses his sadness to a friend and fellow film producer, who becomes inspired to hold an audition for a non-existent film so that the widower can select a new potential bride from the resulting audition pool. The widower ultimately becomes enamored with and fascinated by one particular young woman...but first impressions can often be horribly wrong......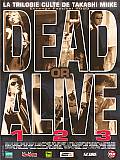 Dead or Alive: Hanzaisha
,
Takashi Miike
, 1999
In Japan, after a massacre of Japanese and Chinese gangsters, the tough and persistent Detective Jojima is in charge of the investigations, while dealing with a personal family problem. His daughter needs to be submitted to a surgery and he needs to raise twenty millions yens urgently. He finds that the Chinese descendant Ryuichi has associated to a Taiwanese drug dealer and is eliminating the competition. In the end, their confrontation becomes...
Hana-bi
,
Takeshi Kitano
, 1997
Nishi is a cop whose wife is slowly dying of Leukemia. One of his partners gets shot on the job and is confined to a wheel chair for the rest of his life and becomes suicidal. Nishi, feeling guilt over his partners accident, tries to help him in any way he can. At the same time, Nishi leaves the police force to spend more time with his dying wife. However, in order to do the right things for those he loves, Nishi must do wrong things. Spiraling...
Cure
,
Kiyoshi Kurosawa
, 1997
A wave of gruesome murders is sweeping Tokyo. The only connection is a bloody X carved into the neck of each of the victims. In each case, the murderer is found near the victim and remembers nothing of the crime. Detective Takabe and psychologist Sakuma are called in to figure out the connection, but their investigation goes nowhere. An odd young man is arrested near the scene of the latest murder, who has a strange effect on everyone who comes...
Joyû-rei
,
Hideo Nakata
, 1996
...