Filmography from : Rene Costa
Actor :
Men in Black: International
,
F Gary Gray
, 2019
...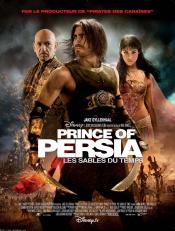 Prince of Persia: The Sands of Time
,
Mike Newell
, 2010
Passing through India en route to Azad, King Sharaman and his son, the Prince of Persia, defeat the powerful Maharajah of India with the promise of honor and glory. After looting the city and capturing a giant hourglass full of sand, a mysterious dagger, and the Maharajah's daughter Farah along with other treasures, they continue to Azad. A dying Vizier, who had betrayed the Maharajah and aided King Sharaman in return for a share of the spoils,...
The Da Vinci Code
,
Ron Howard
, 2006
When respected American religious symbology expert Dr. Robert Langdon is summoned to the Louvre by the French version of the FBI, led by Captain Bezu Fache, he soon discovered that he is the #1 suspect for the murder of a historian Langdon had been scheduled to meet with.. Assisted by a French cryptographer and government agent named Sophie, Langdon is challenged to decipher a chain of cryptic codes and puzzles, all the while trying to stay...
Charlie and the Chocolate Factory
,
Tim Burton
, 2005
When Willy Wonka decides to let five children into his chocolate factory, he decides to release five golden tickets in five separate chocolate bars, causing complete mayhem. The tickets start to be found, with the fifth going to a very special boy, called Charlie Bucket. With his Grandpa, Charlie joins the rest of the children to experience the most amazing factory ever. But not everything goes to plan within the factory....
The Mummy Returns
,
Stephen Sommers
, 2001
...