ABRAHAM LINCOLN: VAMPIRE HUNTER
REVIEWS
(Timur Bekmambetov)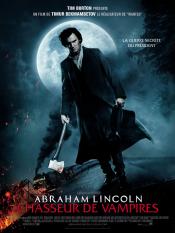 Click here to read our french
"ABRAHAM LINCOLN : VAMPIRE HUNTER" movie review
, directed by
Timur Bekmambetov
with
Benjamin Walker
,
Rufus Sewell
,
Dominic Cooper
starring.
Synopsis : Abraham Lincoln: Vampire Hunter explores the secret life of our greatest President, and the untold story that shaped our nation. Visionary filmmakers Tim Burton and Timur Bekmambetov (director of Wanted) bring a fresh and visceral voice to the blood-thirsty lore of the vampire, imagining Lincoln as history's greatest hunter of the undead.
French Release : 2012-08-08 - US Release : 2012-06-22
Source : Oh My Gore !
No comments.