LE MAGASIN DES SUICIDES
REVIEWS
(Patrice Leconte)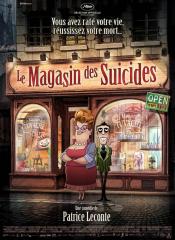 Click here to read our french
"THE SUICIDE SHOP" movie review
, directed by
Patrice Leconte
.
Synopsis : Imagine a shop that for generations has sold all the accoutrements for the perfect suicide. This family business prospers in all its bleak misery, until the day it encounters joie de vivre in the shape of younger son, Alan. What will become of The Suicide Shop in the face of Alan's relentless good cheer, optimism and determination to make the customers smile?
French Release : 2012-06-04 - US Release : 2013-04-25
Source : Oh My Gore !
No comments.