PARANORMAN
REVIEWS
(Sam Fell & Chris Butler)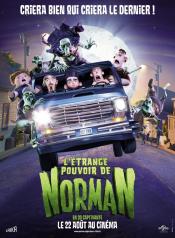 Click here to read our french
"PARANORMAN" movie review
, directed by
Sam Fell
&
Chris Butler
with
Kodi Smit-McPhee
,
Tucker Albrizzi
,
Anna Kendrick
starring.
Synopsis : A small town comes under siege by zombies. Who can it call? Only misunderstood local boy Norman (voiced by Kodi Smit-McPhee), who is able to speak with the dead. In addition to the zombies, he'll have to take on ghosts, witches and, worst of all, grown-ups, to save his town from a centuries-old curse. But this young ghoul whisperer may find his paranormal activities pushed to their otherworldly limits.
French Release : 2012-08-22 - US Release : 2012-08-17
Source : Oh My Gore !