Filmography from : Ryosuke Nagata
Actor :
Ai no mukidashi
,
Sion Sono
, 2008
Three emotionally abused individuals from the fringes of society get locked in a convoluted love triangle. Yuu, a Catholic boy searching for true love ends up taking "panty shot" photos of women in public until he discovers Yoko, whom he sees as his Virgin Mary. Yoko, an anti-family, misandrist girl finds that her foster mother will be marrying Yuu's father. Koike, an "original sinner" and the regional leader of a brainwashing cult, co-ordinates...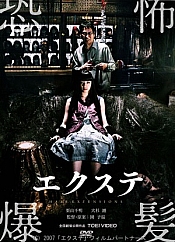 Ekusute
,
Sion Sono
,
Joe DiGiorgi
(english voice director),
Tony Salerno
(english voice director), 2007
What if extensions carried the grudge of the individual to which the hair originally belonged and started attacking people wearing it at random? Customs agents discover a huge amount of human hair used as materials for 'hair extensions' along with the dead body of a young girl with a shaved head. With the corpse being soon transported by the police, the results of the autopsy determine that the woman's internal organs have been harvested. The...