Filmography from : Sam Eidson
Actor :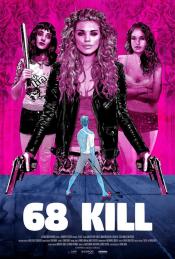 68 Kill
,
Trent Haaga
, 2017
It started with a couple dead bodies and $68,000 in stolen cash. Chip Taylor's girlfriend Liza had the perfect plan to rip off her rich sugar daddy. It should have been an easy in and out kind of deal. Nobody would get hurt and they would come out of it with enough loot to solve their problems. But things started going wrong as soon as they were inside the rich man's house, and for Chip it was only the beginning of the longest, most terrifying...

My Sucky Teen Romance
,
Emily Hagins
, 2011
On 17-year-old Kate's last weekend in town, she and her friends plan to spend it together at SpaceCON– the local science fiction convention they attend every year. At the convention Kate meets Paul, a recently turned teen-vampire (who is also dressed as one). But when Kate tries to make a move on him, he accidentally bites her in the neck. Kate and her friends soon discover Paul is not the only vampire at the convention, and it is up to them...