SAW II 

(2005)

When detective Eric Matthews is called to a crime scene of a victim of Jigsaw, he finds a lead to the place where he is hidden. Once there, he realizes that Jigsaw trapped his son Daniel Matthews with three women and four men in a shelter, and they are inhaling a lethal nerve gas. If they do not use an antidote within two hours, they will die. Eric follows with increasing desperation the death of each member of the group in monitors, while trying to convince Jigsaw to release his son.




Titre original : SAW II 

Genre(s) : Horror, Mystery

Durée : 93 min | 95 min (unrated) Année : 2005Pays : USA | Canada Langue(s) : English Couleur : Color Ratio : 185 : 1

Son : DTS| Dolby Digital| SDDS| DTS(51 surround)

Sortie France : 2005-12-28Sortie US : 2005-10-28

Autre(s) Titre(s) :
Argentina - El juego del miedo 2
Bulgaria (Bulgarian title) - Убийствен пъзел II
Brazil - Jogos Mortais 2
Chile - El juego del miedo 2
Czech Republic - Saw 2
Germany - Saw 2
Germany - Saw II - Das Spiel geht weiter...
Finland - Saw II
Greece (transliterated ISO-LATIN-1 title) - Se vlepo... xana
Greece - Σε βλέπω... ξανά
Croatia - Slagalica strave 2
Hungary - Fűrész 2.
Iran (Persian title) - Arre 2
Italy - Saw II - La soluzione dell'enigma
Mexico (DVD title) - Saw II: Juego del miedo
Mexico - Saw II: juego del miedo
Poland - Piła II
Portugal - Saw II - A Experiência do Medo
Serbia - Slagalica strave 2
Russia - Пила 2
Slovenia - Zaga II
Turkey (Turkish title) - Testere II
USA (working title) - Saw 2
Uruguay - El juego del miedo II
Venezuela - El juego del miedo 2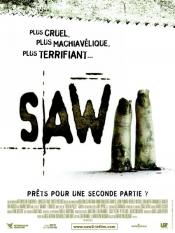 - VOS COMMENTAIRES (ancienne version pour ceux qui n'ont pas de compte Facebook) -

Attention, vous laissez des commentaires sur le film et non sur la critique ou le site.
Tout commentaire injurieux, raciste ou déplacé sera supprimé par la rédaction.

raph7000
- 14/05/2010 à 19:37
# 9
Vu le succès de Saw 1 ils en ont fait un 2ème c'est normal et bien j'ai adoré, plus de gore que dans le premier !
Pour moi c'est du très bon.
Sa note:
10/10
Cannibalor
- 07/03/2010 à 21:51
# 8
Bon euh c'est plus du tout un thriller quoi...
Sa note:
5/10
Sin
- 17/07/2008 à 16:35
# 7
J'ai adoré! Pas aussi bon que le premier, mais, tout aussi jouissif!Un gros 9/10. Saw 3 est énorme, 10/10, mais le 4 est le moins bon, mais bien quand même, 7/10. Je pense que vous vous doutez, je suis fan de la saga!
Julien
- 26/03/2008 à 23:09
# 6
L'effet de surprise n'est plus là et j'ai trouvé l'intérêt donc très affaibli. L'atmosphère est poisseuse et l'ensemble soigné d'un point de vue visuel mais bon, je pense que SAW premier du nom n'appelait pas forcément une suite. Moyen mais pas mauvais mauvais...
Sa note:
7/10
Post-tt
- 29/02/2008 à 13:27
# 5
Faut rester serieux, la surprise du premier ne peut pas revenir ici.

Il est vrai que le film est moins bon que le premier, mais pour celui qui cherche des morts atroces et des situations angoissantes, il peut très bien trouver son compte ici.


A bon entendeur
Sa note:
7/10
purpleangels
- 05/11/2007 à 20:25
# 4
j'attendais mieux mais bon on peut pas tout avoir dommage
Sa note:
7/10
woody
- 10/06/2007 à 23:12
# 3
Steeve, nous ne sommes absolument pas sur un site de film gore, mais un site de film d'épouvante/horreur ( orange mécanique, par exemple, n'est pas gore). Pour en revenir a sawII, cette suite n'est malheureusement pas à la hauteur du premier... Bousman essaie de rajouter du gore mais fait perdre tout l'interêt de saw. Un film divertissant tout de même.
Sa note:
7/10
steeve
- 27/05/2007 à 15:56
# 2
Moi,perso j'ai trouvé saw2 pas si mauvais que ca.On est sur un site de film gore,saw 2 pour moi est gore.Le scenario n'arrive pas à la cheville du premier du nom (et encore moins du 3eme)mais il y a quand meme pas mal de chose interessante.
Sa note:
7/10
bertyran
- 18/05/2007 à 17:30
# 1
Aïe! Aïe! Je retourne de suite voir Saw1...
Sa note:
4/10
Laissez votre commentaire
Toutes les informations proviennent du site http://www.imdb.com
Cette page a été vue 7171 fois.