SHADOW (2009)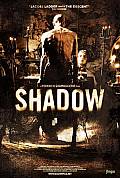 Returning from a devastating tour of duty in Iran, David (Jake Muxworthy) decides to go on a mountain-biking adventure in the Alps to put his horrific memories of war behind him. High in the Alpine forest he meets pretty young Angeline (Karina Testa) and together they explore their idyllic surroundings. They discover a local legend about a lost Nazi experiment camp – a discovery that will force David to endure horrors more terrifying than anything he encountered on the battlefield. He will come face-to-face with the bloodthirsty butcher Mortis (Nuot Arquint) and learn that reality is far sicker, far gorier and far deadlier than any nightmare imaginable.
Original Title : SHADOW
Director(s) :
Federico Zampaglione
Writer(s) : Federico Zampaglione, Domenico Zampaglione, Giacomo Gensini
Genre(s) : Horror
Length : 77 min
Year : 2009
Country : Italy
Langage : English
Coulor : Color
Ratio : 235 : 1
French Release : 2011-09-01
US Release : 2011-03-15
Aka(s) :
Brazil (DVD title) - Shadow - Na escuridão
Germany (DVD title) - Shadow - In der Gewalt des Bösen
France - Shadow
Hungary - Rémképek
Italy - Shadow
Actors :
Cast 
Jake Muxworthy David
Karina Testa Angeline
Ottaviano Blitch Fred
Chris Coppola Buck
Emilio De Marchi Bar Tender /Doctor
Nuot Arquint Mortis
Gianpiero Cognoli Customer (uncredited)
Matt Patresi US Lieutenant (uncredited)
No comments.
All informations are coming from http://www.imdb.com
This page has been seen 2385 times.