Filmography from : Shigeo Kato
Actor :
Kamitsukitai/Dorakiyura yori ai-0
,
Shûsuke Kaneko
, 1991
...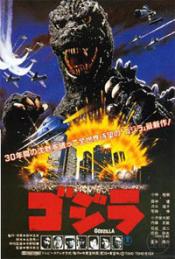 Godzilla 1985
,
Koji Hashimoto
,
RJ Kizer
(US footage),
Ishirô Honda
(earlier film clips) (uncredited),
Toshio Masuda
(earlier film clips) (uncredited),
Shûe Matsubayashi
(earlier film clips) (uncredited),
Shirô Moritani
(earlier film clips) (uncredited), 1985
Thirty years after the original monster's rampage, a new Godzilla emerges and attacks Japan....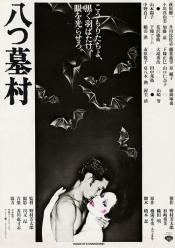 Yatsuhaka-mura
,
Yoshitarô Nomura
, 1977
The heir to a family fortune discovers that a curse has been placed on it, put there centuries before by a band of samurai warriors....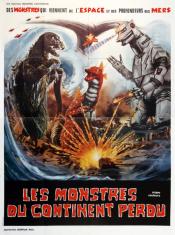 Les Monstres du continent perdu
,
Ishirô Honda
,
Jun Fukuda
(earlier film clips) (uncredited), 1975
Godzilla comes to the rescue when an alien race rebuilds Mechagodzilla to destroy Earth's cities. A traitorous scientist gives them a second weapon: Titanosaurus....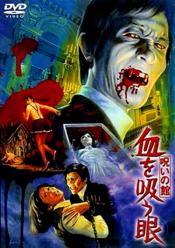 Le lac de Dracula
,
Michio Yamamoto
, 1971
After a coffin is delivered to a sleepy little Japanese town, one of the locals discovers that its occupant isn't dead yet. Unfortunately, the only witness to the vampire invasion gets bitten, along with several other people in town. Only one woman, Akiko, knows the truth, but even she doubts what she is seeing. Can the village be saved before it's too late?...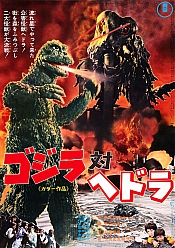 Godzilla contre Hedora
,
Yoshimitsu Banno
,
Ishirô Honda
(earlier film clips) (uncredited), 1971
From Earth's pollution a new monster is spawned. Hedorah, the smog monster, destroys Japan and fights Godzilla while spewing his poisonous gas to further the damage....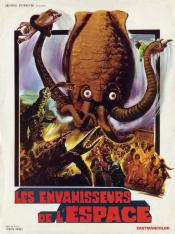 Les envahisseurs de l'espace
,
Ishirô Honda
, 1970
A space probe is infiltrated by alien beings and then crashes on a remote Pacific atoll. A group planning to build a resort hotel land on the island and discover it to be inhabited by giant mutant monsters created by the aliens in an attempt to conquer the world. ...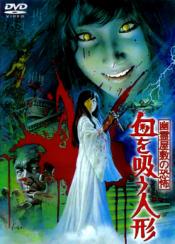 Yûrei yashiki no kyôfu: Chi wo sû ningyô
,
Michio Yamamoto
, 1970
A young man visits an isolated mansion in the country to reunite with Yuko, the love of his life. But her mother tells him that she's recently died in a car crash. As he pays his respects at her grave near the house, he's attacked by a shrouded figure......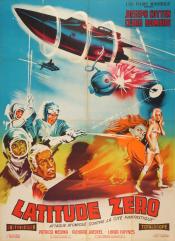 Latitude zéro
,
Ishirô Honda
, 1969
Discover the incredible world of tomorrow... 15 miles straight down at LATITUDE ZERO...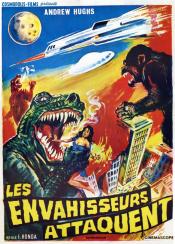 Les envahisseurs attaquent
,
Ishirô Honda
,
Jun Fukuda
(earlier film clips) (uncredited), 1968
Aliens have released all the giant monsters from their imprisonment on Monster Land and are using them to destroy all major cities on the planet. It is up to the daring crew of the super rocket ship X-2 to infiltrate the aliens' headquarters before the Earth monsters and King Ghidrah annihilate the planet. ...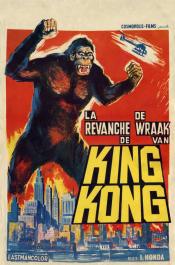 La revanche de King Kong
,
Ishirô Honda
(english language version) (as Inoshiro Honda), 1967
When a mechanical replica of King Kong is unable to dig for the highly radioactive Element X at the North Pole, the evil Doctor Who and his sponsor Madame Piranha (Madame X in the American release) decide to kidnap the real Kong. As an insurance policy they kidnap Lt. Susan Miller as well as her boyfriend Lt. CommanderJiro Nomura and Cmdr. Carl Nelson (Kong developed a crush on Susan when she Nomura and Nelson visited the Kong at his home on...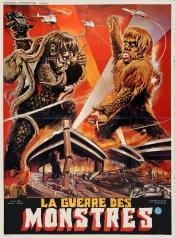 La guerre des monstres
,
Ishirô Honda
, 1966
A freighter is attacked by a giant octopus during a stormy night. The octopus is then attacked buy a hairy green giant. The gargantua then turns his attention to the ship and sinks it killing and eating all the crew except for one. When the surviving crew member tells the police what happened, they call in Doctor Paul Stewart and his assistant Akemi. Several years earlier, Stewart had a younger species of the same creature and it is feared that...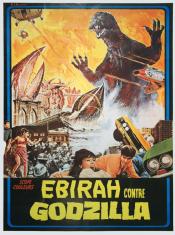 Ebirah contre Godzilla
,
Jun Fukuda
, 1966
A fisherman named Yata winds up missing after the boat he is working on sinks. His younger brother Ryota decides to search for him, but when the authorities refuse to help him he tries to enter a dance contest to win a boat to go search for Yata. When Ryota arrives at the contest he finds out he is too late by a few days, but meets up with two contestants who had already been eliminated named Nita and Ichino. The three youths then head for the...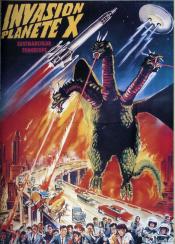 Invasion planète X
,
Ishirô Honda
(as Inoshirô Honda), 1965
Aliens from the mysterious Planet X, which resides on the dark side of of Jupiter, come to Earth asking its people to help them save their world from the dreaded King Ghidrah by letting them "borrow" Godzilla and Rodan. The aliens are actually planning to use the three monsters to take over our planet....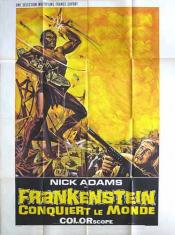 Frankenstein conquiert le monde
,
Ishirô Honda
, 1965
During WWII, a human heart taken from a certain lab in Europe (Dr. Frankenstein's) is kept in a Japanese lab, when it gets exposed to the radiation of the bombing of Hiroshima. The heart grows in size, mutates and sprouts appendages, and eventually grows into a complete body and escapes. Later, a feral boy with a certain physical deformity (a large head with a flat top) is captured by scientists who refer to the boy as Frankenstein. The creature...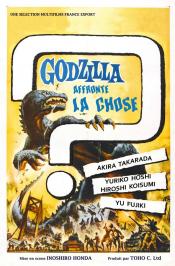 Mothra contre Godzilla
,
Ishirô Honda
, 1964
A greedy developer unwittingly hatches a gigantic baby moth upon Tokyo, while Godzilla strikes once again....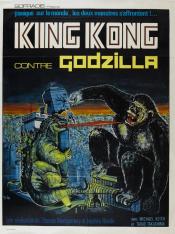 King Kong contre Godzilla
,
Ishirô Honda
(as Inoshiro Honda),
Tom Montgomery
(as Thomas Montgomery), 1963
A pharmaceutical company captures King Kong and brings him to Japan, where he escapes from captivity and battles a recently released Godzilla....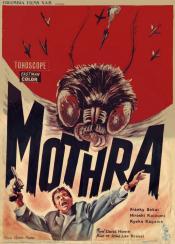 Mothra
,
Ishirô Honda
(as Inoshiro Honda), 1961
Shipwreck survivors are found on Beiru, an island previously used for atomic tests. Amazingly free of radiation effects, they believe they were protected by a special juice given to them by the natives. A joint expedition of Rolithican and Japanese scientists explores Beiru and discovers many curious things, including two women only a foot high. Unscrupulous expedition leader Clark Nelson abducts the women and puts them in a vaudeville show. But...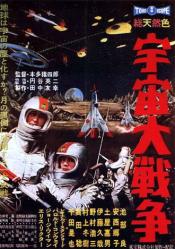 Bataille dans l'espace
,
Ishirô Honda
(as Inoshiro Honda), 1959
The nations of the Earth unite in a common cause to fight off an invader from outer space....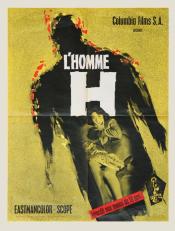 L'homme H
,
Ishirô Honda
, 1958
A drug dealer named Misaki disappears leaving only his clothes. The next day the police go to question his girlfriend, singer Chikako Arai, and she informs them that she doesn't have any information on where he is. Later that evening one of his associates comes by to try to beat the truth out her. After he leaves he disappears in the same way that Misaki did. A short time later, a young scientist named Masada informs the police that there was a...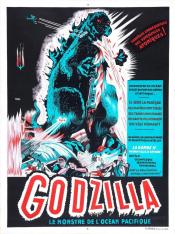 Godzilla
,
Ishirô Honda
, 1954
American nuclear weapons testing results in the creation of a seemingly unstoppable, dinosaur-like beast. ...