SHIN GODZILLA

(2016)

Original Title : SHIN GODZILLA

Genre(s) : [Action

Year : 2016French Release : 2017-12-10US Release : 2016-10-03

Actors : Hiroki Hasegawa

Rando Yaguchi

Yutaka Takenouchi

Hideki Akasaka

Satomi Ishihara

Kayoko Ann Patterson

Ren Ôsugi

Prime Minister Seiji Okochi

Akira Emoto

Ryuta Azuma

Kengo Kôra

Yusuke Shimura, Deputy Chief Cabinet Secretary

Mikako Ichikawa

Hiromi Ogashira, Deputy Director of Nature Conservation Bureau

Jun Kunimura

Masao Zaizen, Integrated Chief of Staff

Pierre Taki

Saigo, Combat Leader

Kyûsaku Shimada

Katayama, Minister of Foreign Affairs

Ken Mitsuishi

Kozuka, Governor of Tokyo

Shingo Tsurumi

Yajima, Joint Staff Deputy

Kimiko Yo

Reiko Hanamori, Defense Minister

Takumi Saitoh

Ikeda, Tank Captain (as Takumi Saitô)

Takashi Fujiki

Tokyo Lieutenant Governor

Yû Kamio

Ministry of Foreign Affairs

Suzuki Matsuo

Journalist

Takahiro Miura

Journalist

Bob Werley

Embassy Staff

Mark Chinnery

Newscaster

Atsuko Maeda

Refugee

Ren Mori

Refugee

Kazuo Hara

Biologist

Shin'ya Tsukamoto

Biologist

Akira Ogata

Marine Biologist

Akira Hamada

Minister

Alex Hormigo

American Military

Shôhei Abe Daniel Aguilar

Embajador Morelli

Makoto Awane Christiane Brew

Researcher

Arata Furuta

National Police Agency Commissioner General

Charles Glover

Ambassador Lansing

Toyotaka Hanazawa Chisako Hara Jun Hashimoto

Official of Japan Self-Defense Forces

Sei Hiraizumi

Minister of Agriculture, ForestryFisheries

Isshin Inudô

Ancient Organism Scholar

Mafia Kajita Hairi Katagiri

Official Residence Employee

Kosei Kato

National Police Agency Personnel

Takashi Kobayashi

Official of Japan Self-Defense Forces

Yôichi Kobiyama Keisuke Koide

Fire Brigade Chief

Kreva

Official of Japan Self-Defense Forces

Daisuke Kuroda

Nuclear Regulation Authority

Kô Maehara Morris Matsumura

Ministry of Education, Culture, Sports, ScienceTechnology Research Planning Division Staff

Satoru Matsuo Moro Morooka

Criminal Investigation Bureau director of National Police Agency

Inge Murata

German Scientist

Markus Müller

German Scientist (as Markus M)

Ikuji Nakamura

Minister of State for Special Missions

Tôru Nomaguchi

Bureaucrat of Ministry of Economy, TradeIndustry

Mansai Nomura

Godzilla

Mayumi Ogawa Ichi Omiya Shô Oyamada

Akihisa Yanagi

Kôji Seki

(as Kouji Seki)

Seikô Senô Tarô Suwa

Chief of Disaster Prevention Division

Issey Takahashi

Bureaucrat of The Ministry of Education, Culture, Sports, ScienceTechnology (as Issei Takahashi)

Shota Taniguchi

Taiji Sodehara

Tôru Tezuka

Minister of Education, Culture, Sports, ScienceTechnology

Kanji Tsuda

Bureaucrat of Ministry of Health, Labour,Welfare

Tetsu Watanabe

Deputy Chief Cabinet Secretary for Crisis Management

Ken'ichi Yajima

Minister of Land, Infrastructure, TransportTourism

Takeshi Ôbayashi Ippei Ôsako

Yuminari

Hideaki Anno

Passerby (uncredited)

Nozomi de Lencquesaing

US Airman (uncredited)

Kunihiko Ikuhara

Passerby (uncredited)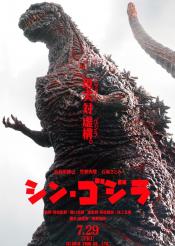 - YOUR COMMENTS -
Be careful, every litigious comments will be deleted.

No comments.
Leave your comment
All informations are coming from http://www.imdb.com
This page has been seen 1898 times.