Filmography from : Shinji Nomura
Actor :
Kokuhaku
,
Tetsuya Nakashima
, 2010
Takako Matsu stars as Yuko Moriguchi, a middle-school teacher whose four-year-old daughter is found dead. Shattered, she finally returns to her classroom only to become convinced that two of her students were responsible for her daughter's murder. No one believes her, and she may very well be wrong, but she decides, nevertheless, that it's time to take her revenge. What happens next is all-out psychological warfare waged against her students...
Ju-on: Kuroi shôjo
,
Mari Asato
, 2009
A Nurse named Yuko (Kago) has a strange experience while taking care of a girl named Fukie. Test results show a cyst inside Fukie's body, but that cyst is actually the leftover grudge from a baby who was unable to be born. The cyst's grudge spreads to Fukie and everyone around her. Soon Fukie's father goes mad and commits murder. Fukie's sister Mariko has special spiritual power, and together with their mother they have some success...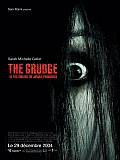 The Grudge
,
Takashi Shimizu
, 2004
...
Dark Water
,
Hideo Nakata
, 2002
...