SILENT VENOM (2009)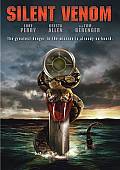 Lieutenant Commander O'Neill's (Perry) orders were simple: Pilot a retired submarine to its final port and don't get into trouble. But when he and his crew are diverted to rescue an imperiled Army research team, trouble is exactly what they find. "Running silent" in their unarmed sub to avoid detection by a hostile fleet, they bring the researchers and their top-secret cargo aboard. But when that cargo – including two genetically enhanced leviathans – escapes captivity, the crew find themselves battling deadly enemies above the surface and below foot in this fast-paced film filled with biting action and slithering suspense!
Original Title : SILENT VENOM
Director(s) :
Fred Olen Ray
Writer(s) :
Mark Sanderson
Year : 2009
Country : USA
Langage : English
Coulor : Color
French Released : 2010-06-16
US Released : 2009-06-02
Aka(s) :
Silent Venom - USA (original title)
Des serpents à bord - France (imdb display title)
Recoil - USA (working title)
Recoil - Pagidevmenoi sto vytho - Greece (DVD title)
Sea Snakes - USA (TV title)
Serpientes a bordo - Spain (DVD menu title)
Actors :
Luke Perry - Lt. Comdr. James O'Neill
Krista Allen - Dr. Andrea Swanson
Tom Berenger - Admiral Bradley Wallace
Louis Mandylor - Jake Goldin
Anthony Tyler Quinn - Eddie Boudreau
John L. Curtis - Lt. Comdr. Houston Davies
Robert Catrini - Major Drake - US Army
David Andriole - Ensign Richard Kelso
Sam Scarber - Capt. Rogers
Travis Dixon - Officer Lozano
Haran Jackson - Sailor Rhodes
Oliver Rayon - Sailor Wilson
Bill J. Stevens - Secretary of the Navy
Gerald Webb - Engineer
T. Ryan Mooney
Kimo Keoke - Snake Trapper #2
Ted Monte - Johnson
Jeffrey Christopher Todd - Helmsman Long
McKay Stewart - Cook
Michael Galvez - Planesman Ray
Austin Honaker - That Navy Officer (uncredited)

No comments.
All informations are coming from http://www.imdb.com
This page has been seen 2464 times.