Filmography from : Slavitza Jovan
Actor :

House on Haunted Hill
,
William Malone
, 1999
...

Ghost Busters
,
Ivan Reitman
, 1984
Three odd-ball scientists get kicked out of their cushy positions at a university in New York City where they studied the occult. They decide to set up shop in an old firehouse and become Ghostbusters, trapping pesky ghosts, spirits, haunts, and poltergeists for money. They wise-crack their way through the city, and stumble upon a gateway to another dimension, one which will release untold evil upon the city. The Ghostbusters are called on to...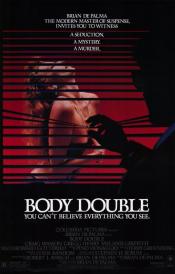 Body Double
,
Brian De Palma
, 1984
Jake comes home to find his girlfriend with another man and has to find a new place. In between his acting workshops and his job in a vampire B-movie, he scans the paper looking for anything. He happens to meet a fellow actor who needs a house sitter. Both are pleased with the arrangement that will have Jake staying in the house and for a sweetener, Frank shows him his 'favorite neighbor', a well built woman who strips with her window open each...