SOMOS LO QUE HAY (2010)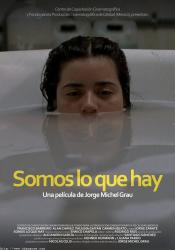 A middle-aged man dies in the street, leaving his widow and three children destitute. The devastated family is confronted not only with his loss but with a terrible challenge - how to survive. For they are cannibals. They have always existed on a diet of human flesh consumed in bloody ritual ceremonies... and the victims have always been provided by the father. Now that he is gone, who will hunt? Who will lead them? How will they sate their horrific hunger? The task falls to the eldest son, Alfredo, a teenage misfit who seems far from ready to accept the challenge... But without human meat the family will die. Shocking, bloody and deeply moving, WE ARE WHAT WE ARE is a remarkable reinvention of the horror genre - a visceral and powerfully emotional portrait of a family bound by a terrible secret and driven by monstrous appetites.
Original Title : SOMOS LO QUE HAY
Director(s) :
Jorge Michel Grau
Writer(s) : Jorge Michel Grau (screenplay)
Genre(s) : Drama | Horror
Length : 90 min
Year : 2010
Country : Mexico
Langage : Spanish
Coulor : Color
Ratio : 235 : 1
Sound : Dolby Digital
French Release : 2010-09-07
US Release : 2010-10-07
Aka(s) :
(original title) - Somos lo que hay
Brazil - Somos o que Somos
Germany - Wir sind was wir sind
Finland - Mä oon mitä oon
Finland (Swedish title) - Vi är vad vi är
France - Ne nous jugez pas
France (festival title) - Nous sommes ce que nous sommes
Hungary - Vagyunk, akik vagyunk
Poland - Jestesmy tym, co jemy
Sweden - We Are What We Are
Turkey (Turkish title) - Kan Kokusu
World-wide (English title) - We Are What We Are
Actors :
 
Francisco Barreiro Alfredo
Adrián Aguirre Adriana
Miriam Balderas Sheila
Carmen Beato Patricia
Alan Chávez Julián
Juan Carlos Colombo Director de la Funeraria
Paulina Gaitan Sabina
Daniel Giménez Cacho Tito
Miguel Ángel Hoppe Gustavo
Raúl Kennedy Adán
Octavio Michel Teniente
Esteban Soberanes Octavio
Humberto Yáñez Papá
Jorge Zárate Owen
No comments.
All informations are coming from http://www.imdb.com
This page has been seen 1936 times.