Filmography from : Stephanie Vogt
Actor :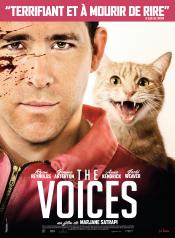 The Voices
,
Marjane Satrapi
, 2014
Jerry (Ryan Reynolds) is that chipper guy clocking the nine-to-five at a bathtub factory, with the offbeat charm of anyone who could use a few friends. With the help of his court-appointed psychiatrist, he pursues his office crush (Gemma Arterton). However, the relationship takes a sudden, murderous turn after she stands him up for a date. Guided by his evil talking cat and benevolent talking dog, Jerry must decide whether to keep striving for...
Pendulum
,
James D Deck
, 2001
The nature and lure of power: in Dallas, a councilman is on trial for corruption, the D.A. is running for the US Senate, a serial killer is slashing prostitutes, and a professor is murdered. Amanda Reeve is assigned to investigate the law-school killing. She hears rumors that the dead man offered women students good grades in exchange for sex. The trail leads her to two wealthy, beautiful students whose alibi is provided by a librarian. At the...