Filmography from : Sybil Danning
Actor :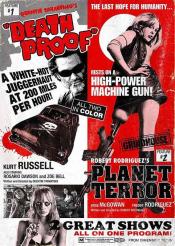 Grindhouse
,
Robert Rodriguez
(segment 'Planet Terror') (fake trailer segment 'Machete'),
Eli Roth
(fake trailer segment 'Thanksgiving'),
Quentin Tarantino
(segment 'Death Proof'),
Edgar Wright
(fake trailer segment 'Don't'),
Rob Zombie
(fake trailer segment 'Werewolf Women of the SS'), 2007
Two full length feature horror movies written by Quentin Tarantino & Robert Rodriguez put together as a two film feature. Including fake movie trailers in between both movies....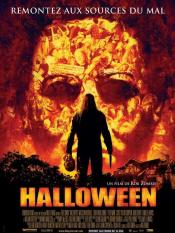 Halloween
,
Rob Zombie
, 2007
...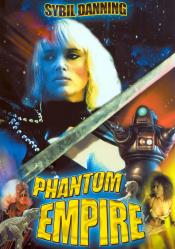 The Phantom Empire
,
Fred Olen Ray
, 1988
When a man-eating cave creature appears with a fortune in uncut diamonds around his neck, Dr. Chambers' daughter Denae hires adventurers C & C Salvage to find the underground source of the gems. Accompanied by archeaological intern Andrew Paris, mineralogist Prof. Strock, and C&C's scruffy owners Cort Eastman and Eddy Colchilde, Denea's hopes of emerging from her famous father's shadow become as remote as getting out of the caves alive!...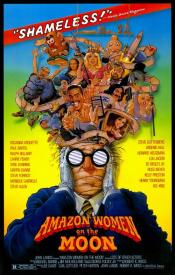 Cheeseburger Film Sandwich
,
Joe Dante
(segments 'The French Ventiloquist's Dummy' [TV cut & DVD only], 'Hairlooming', 'Bullshit or Not', 'Critic's Corner', 'Roast Your Loved One', 'Reckless Youth'),
Carl Gottlieb
(segments 'Peter Pan Theater' [TV cut & DVD only], 'Pethouse Video', 'Son of the Invisible Man', 'Art Sale'),
Peter Horton
(segment 'The Unknown Soldier' [TV cut & DVD only]'Two ID's'),
John Landis
(segments 'Mondo Condo', 'Hospital', 'Blacks Without Soul', 'Don 'No Soul' Simmons', 'Video Date'),
Robert K Weiss
(segments 'Murray in Videoland', 'Amazon Women on the Moon', 'Silly Paté', 'Video Pirates', 'First Lady of the Evening', 'Titan Man'), 1987
A series of short sketches, most of which parody late-night television and the low-budget movies one often finds there. Other skits include a man being attacked by his apartment, a funeral hosted by classic comedians, and a teen-age boy's big night turning into a nightmare....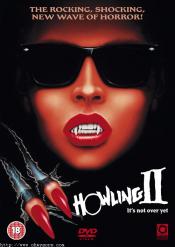 Horror
,
Philippe Mora
, 1985
When Ben, the brother of one of the werewolf victims from the first movie, is told that the world is actually full of werewolves and they're planning to take control, he is skeptical. After a good deal of convincing from werewolf hunter Stefan, however, he finally agrees to join Stefan's band of lycanthrope hunters in Transylvania on a mission to kill Stirba, Queen of the Werewolves. Can the group survive against her army of evil?...
V
,
Kevin Hooks
(3 episodes, 1984-1985),
Gilbert M Shilton
(3 episodes, 1984-1985),
Cliff Bole
(3 episodes, 1985),
Bruce Seth Green
(2 episodes, 1984),
Paul Krasny
(2 episodes, 1984),
John Florea
(2 episodes, 1985),
Walter Grauman
(1 episode, 1984),
Victor Lobl
(1 episode, 1984),
Ray Austin
(1 episode, 1985),
Earl Bellamy
(1 episode, 1985), 1984
A year after Liberation Day, courtesy of the red-dust bacteria, the humanoid, lizard-like aliens develop a resistance to the micro-organism and try to regain control of the Earth--only now some humans are knowingly working with them....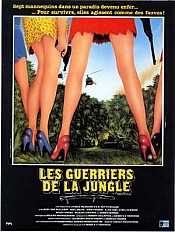 Les guerriers de la jungle
,
Ernst Ritter von Theumer
(as Ernst R von Theumer),
Billy Fine
(uncredited), 1984
A group of models fly into the jungle of some South American country to look for a photo location. Their plane is shot down and they are captured by a drug baron's private army. At the same time, the Mafia's representative arrive to negotiate future collaboration....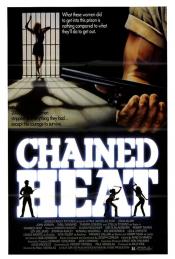 Les Anges du mal
,
Paul Nicholas
(as Paul Nicolas), 1983
Linda Blair plays Carol, a young woman who must serve 18 months in prison after killing a man (by accident). The prison turns out to be brimming with decadence, corruption and sleaze, where the other female inmates are sadistic crack-selling lesbian rapists and the guards and warden are no better. Racial tensions are high as the inmates is divided into two factions, blacks and whites, who must either join together against the management or kill...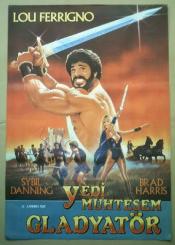 I sette magnifici gladiatori
,
Bruno Mattei
,
Claudio Fragasso
(uncredited), 1983
A bandit leader endowed with supernatural powers by his sorceress mother makes yearly raids on a peasant village. However, the women of the village come into possession of a magic sword, and go in search of a hero who is able to wield it and save their village from the evil bandit....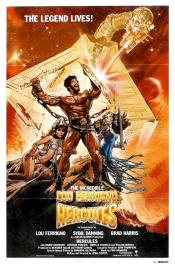 Hercule
,
Luigi Cozzi
(as Lewis Coates), 1983
The story of the Greek mythological figure, updated in this 80's version....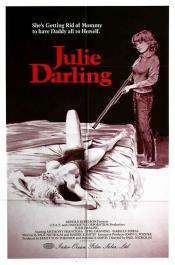 Un amour assassin
,
Paul Nicholas
(as Paul Nicolas), 1982
A teenage girl whose inaction caused her mother's death arranges a similarly gruesome fate for her stepmother and brother. This extremely obscure thriller is unpleasant and highly unsettling, but at the same time undeniably effective. ...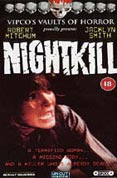 Nightkill
,
Ted Post
, 1980
...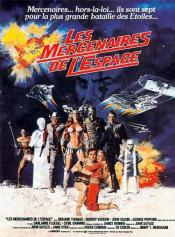 Les mercenaires de l'espace
,
Jimmy T Murakami
,
Roger Corman
(uncredited), 1980
Seven futuristic mercenaries are assembled to defend a helpless farm colony from an evil overlord....
Les 69 Dalmatiennes
,
Franz Antel
,
Michel Caputo
(additional sequences), 1972
...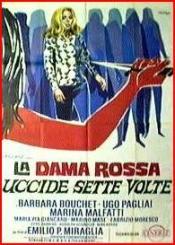 La dame rouge tua 7 fois
,
Emilio Miraglia
(as Emilio P Miraglia), 1972
...
J'ai avorté monsieur le procureur
,
Rob Houwer
,
Eberhard Schröder
, 1971
...