Filmography from : Takahiro Ono
Actor :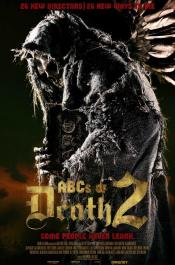 The ABCs of Death 2
,
Rodney Ascher
(segment 'Q is for Questionnaire'),
Julian Barratt
(segment 'B is for Badger'),
Robert Boocheck
(segment 'M is for Masticate'),
Alejandro Brugués
(segment 'E is for Equilibrium'),
Kristina Buozyte
(segment 'K is for Knell'),
Alexandre Bustillo
(segment 'X is for Xylophone'),
Larry Fessenden
(segment 'N is for Nexus'),
Julian Gilbey
(segment 'C is for Capital Punishment'),
Jim Hosking
(segment 'G is for Grandad'),
Lancelot Oduwa Imasuen
(segment 'L is for Legacy'),
EL Katz
(segment 'A is for Amateur'),
Aharon Keshales
(segment 'F is for Falling'),
Steven Kostanski
(segment 'W is for Wish'),
Marvin Kren
(segment 'R is for Roulette'),
Juan Martínez Moreno
(segment 'S is for Split'),
Erik Matti
(segment 'I is for Invincible'),
Wolfgang Matzl
(title sequence),
Julien Maury
(segment 'X is for Xylophone'),
Robert Morgan
(segment 'D is for Deloused'),
Chris Nash
(segment 'Z is for Zygote'),
Vincenzo Natali
(segment 'U is for Utopia'),
Hajime Ohata
(segment 'O is for Ochlocracy [Mob Rule]'),
Navot Papushado
(segment 'F is for Falling'),
Bill Plympton
(segment 'H is for Head Games'),
Dennison Ramalho
(segment 'J is for Jesus'),
Todd Rohal
(segment 'P is for Scary'),
Jerome Sable
(segment 'V is for Vacation'),
Bruno Samper
(segment 'K is for Knell'),
Jen Soska
(segment 'T is for Torture Porn'),
Sylvia Soska
(segment 'T is for Torture Porn'),
Sôichi Umezawa
(segment 'Y is for Youth') (as Soichi Umezawa), 2014
Another 26-chapter anthology that showcases death in all its vicious wonder and brutal beauty....
Au-delà du sang
,
Guillaume Tauveron
, 2012
One year after the unresolved murder of his wife, Shinji receives a mysterious message putting him on track of the assassin. He follows his revenge instinct and disappears into the darkness of Tokyo where he meets a young woman on the lam. During that night, they come across yakuza and lost souls, and their lives change dramatically....
Kokuhaku
,
Tetsuya Nakashima
, 2010
Takako Matsu stars as Yuko Moriguchi, a middle-school teacher whose four-year-old daughter is found dead. Shattered, she finally returns to her classroom only to become convinced that two of her students were responsible for her daughter's murder. No one believes her, and she may very well be wrong, but she decides, nevertheless, that it's time to take her revenge. What happens next is all-out psychological warfare waged against her students...