THE APPARITION (2012)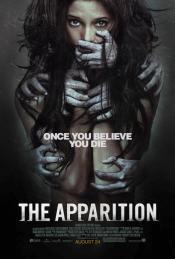 When frightening events start to occur in their home, young couple Kelly (Ashley Greene) and Ben (Sebastian Stan) discover they are being haunted by a presence that was accidentally conjured during a university parapsychology experiment. The horrifying apparition feeds on their fear and torments them no matter where they try to run. Their last hope is an expert in the supernatural (Tom Felton), but even with his help they may already be too late to save themselves from this terrifying force...
Original Title : THE APPARITION
Director(s) :
Todd Lincoln
Writer(s) : Todd Lincoln (written by)
Genre(s) : Horror | Thriller
Length : 83 min
Year : 2012
Country : USA
Langage : English
Coulor : Color
Ratio : 235 : 1
Sound : Datasat| Dolby Digital| SDDS
US Release : 2012-08-24
Aka(s) :
Argentina - La aparición
Bulgaria (Bulgarian title) - Видението
Brazil - A Aparição
Chile - La aparición
Germany - Apparition - Dunkle Erscheinung
Greece - Skoteini ontotita
Hungary - A jelenés
Peru - La aparición
Poland - Zjawy
Portugal - A Aparição
Serbia - Prikaza
Russia - Явление
Actors :
 
Ashley Greene Kelly
Sebastian Stan Ben
Tom Felton Patrick
Julianna Guill Lydia
Luke Pasqualino Greg
Rick Gomez Mike
Anna Clark Maggie
Tim Williams Office Executive
Marti Matulis Apparition (as Marty Martulis)
Suzanne Ford Mrs Henley (uncredited)
Melissa Goldberg Fast Food Girl (uncredited)
John Grady Apparition (uncredited)
Meena Serendib Veterinarian (uncredited)
No comments.
All informations are coming from http://www.imdb.com
This page has been seen 2088 times.