THE EXORCIST (1973)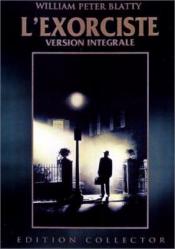 A movie actress taking up temporary residence in Washington D.C. has her troubles. The script for the movie she's filming seems inadequate. Her ex, who is also the father of her adolescent daughter, Regan, neglects to call the girl on her birthday. And the attic has rats. Meanwhile, Father Karras, a priest and a psychiatrist, is losing his faith; and he's dealing with a sick mother who needs medical care he hasn't the money to provide. Another priest, the old and ailing Father Merrin, has just returned from Iraq with forebodings of evil. These three persons meet when the sweet and cheerful Regan turns foul-mouthed and violent. But her sickness is beyond the reach of a medical doctor or a psychiatrist. What Regan needs is an exorcist.
Original Title : THE EXORCIST
Director(s) :
William Friedkin
Writer(s) : William Peter Blatty (written for the screen by),  , William Peter Blatty (novel)
Genre(s) : Horror
Length : 122 min | 132 min (director's cut)
Year : 1973
Country : USA
Langage : English | Latin | Greek | French | German | Arabic
Coulor : Color(Metrocolor)
Ratio : 137 : 1
Sound : 70 mm 6-Track(1979 re-release)| DTS-ES(director's cut)| Dolby Digital EX(director's cut)| Mono(original release)| SDDS(director's cut)
French Release : 1974-09-11
US Release : 1973-12-26
Aka(s) :
(original title) - The Exorcist
Argentina - El Exorcista
Argentina (director's cut) - El exorcista
Australia (cable TV title) - The Exorcist 2000
Bulgaria (Bulgarian title) - Заклинателят
Brazil - O Exorcista
Canada (French title) - L'exorciste 2000
Czech Republic (restored version) - Vymýtac dábla
Germany (director's cut) - Der Exorzist - Director's Cut
Germany (video title) (director's cut) - Der Exorzist - die neue Fassung
Denmark - Eksorcisten
Spain - El exorcista
Finland (Swedish title) - Exorcisten
Finland - Manaaja
France - L'exorciste
France (director's cut) - L'exorciste - version intégrale
Greece (transliterated ISO-LATIN-1 title) - O exorkistis
Greece - Ο Εξορκιστής
Croatia - Istjerivač đavla
Hungary - Az ördögűző
Italy - L'esorcista
Italy (director's cut) - L'esorcista - Versione integrale
Japan (English title) - Exorcist
Lithuania - Egzorcistas
Lithuania (restored version) - Egzorcistas. Versija, kurios dar nematete
Mexico - El exorcista
Norway (alternative title) - Eksorsisten
Norway (DVD title) - Exorsisten
Peru - El exorcista
Poland - Egzorcysta
Portugal - O Exorcista
Romania - Exorcistul
Serbia - Isterivač đavola
Sweden - Exorcisten
Soviet Union (Russian title) - хГЦНМЪЧЫХИ ДЭЪБНКЮ
Turkey (Turkish title) - Seytan
USA (recut version) - The Exorcist: The Version You Haven't Seen Yet
USA (promotional title) - The Exorcist: The Version You've Never Seen
USA (reissue title) - William Peter Blatty's The Exorcist
Uruguay - El exorcista
West Germany - Der Exorzist
Actors :
 
Ellen Burstyn Chris MacNeil
Max von Sydow Father Merrin
Lee J Cobb Lt William Kinderman
Kitty Winn Sharon
Jack MacGowran Burke Dennings
Jason Miller Father Karras
Linda Blair Regan
William O'Malley Father Dyer (as Reverend William O'Malley SJ)
Barton Heyman Dr Klein
Peter Masterson Dr Barringer - Clinic Director (as Pete Masterson)
Rudolf Schündler Karl
Gina Petrushka Willi
Robert Symonds Dr Taney
Arthur Storch Psychiatrist
Thomas Bermingham Tom - President of University (as Reverend Thomas Bermingham SJ)
Vasiliki Maliaros Karras' Mother
Titos Vandis Karras' Uncle
John Mahon Language Lab Director
Wallace Rooney Bishop Michael
Ron Faber Chuck - Assistant Director /Demonic Voice
Donna Mitchell Mary Jo Perrin
Roy Cooper Jesuit Dean
Robert Gerringer Senator at Party
Mercedes McCambridge Demon (voice)
Paul Bateson Radiologist's Assistant (uncredited)
Elinore Blair Nurse (uncredited)
William Peter Blatty The Producer (uncredited)
Mary Boylan First Mental Patient (uncredited)
Dick Callinan Astronaut (uncredited)
Mason Curry Doctor (voice) (uncredited)
Toni Darnay Violent psychotic patient (uncredited)
Eileen Dietz Pazuzu's Face (uncredited)
Joanne Dusseau Senator's Wife (uncredited)
Bernard Eismann Minor Role (uncredited)
Beatrice Hunter Minor Role (uncredited)
Yvonne Jones Bellevue Nurse (uncredited)
Don LaBonte Minor Role (uncredited)
John Nicola Priest (uncredited)
Vincent Russell Subway Vagrant (uncredited)
No comments.
All informations are coming from http://www.imdb.com
This page has been seen 40238 times.