THE FLY (1986)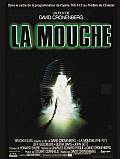 Seth Brundle, a brilliant but eccentric scientist attempts to woo investigative journalist Veronica Quaife by offering her a scoop on his latest research in the field of matter transportation, which against all the expectations of the scientific establishment have proved successful. Up to a point. Brundle thinks he has ironed out the last problem when he successfully transports a living creature, but when he attempts to teleport himself a fly enters one of the transmission booths, and Brundle finds he is a changed man. This Science-Gone-Mad film is the source of the quotable quote "Be afraid. Be very afraid."
Original Title : THE FLY
Director(s) :
David Cronenberg
Writer(s) : George Langelaan (short story),  , Charles Edward Pogue (screenplay) and, David Cronenberg (screenplay)
Genre(s) : Horror | Sci-Fi
Length : 96 min
Year : 1986
Country : USA | UK | Canada
Langage : English
Coulor : Color
Ratio : 185 : 1
Sound : Dolby
French Release : 1987-01-21
US Release : 1986-08-15
Aka(s) :
(original title) - The Fly
Argentina - La mosca
Austria - Die Fliege
Brazil - A Mosca
Canada (French title) - La mouche
Czechoslovakia - Moucha
Denmark - Fluen
Spain - La mosca
Finland (Swedish title) - Flugan
Finland - Kärpänen
France - La mouche
Greece (transliterated ISO-LATIN-1 title) - I myga
Croatia - Muha
Hungary - A légy
Israel (Hebrew title) - Ha-Zvuv
Italy - La mosca
Mexico - La mosca
Norway - Fluen
Peru - La mosca
Poland - Mucha
Portugal - A Mosca
Romania - Musca
Serbia - Muva
Sweden - Flugan
Slovenia - Muha
Turkey (Turkish title) - Sinek
West Germany - Die Fliege
Actors :
 
Jeff Goldblum Seth Brundle
Geena Davis Veronica Quaife
John Getz Stathis Borans
Joy Boushel Tawny
Leslie Carlson Dr Brent Cheevers (as Les Carlson)
George Chuvalo Marky
Michael Copeman 2nd Man in Bar
David Cronenberg Gynecologist
Carol Lazare Nurse
Shawn Hewitt Clerk
No comments.
All informations are coming from http://www.imdb.com
This page has been seen 4387 times.