THE HILLS HAVE EYES (1977)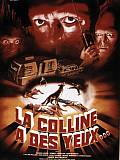 While traveling in a trailer through the desert to California, the retired detective Big Bob Carter stops in an isolated gas station with his family for fueling and rest. Bob is traveling with his wife Ethel, his son Bobby, his daughters Brenda and Lynn and his son-in-law and Lynn's husband Doug and their daughter baby Katy. When they leave the gas station, the owner advises Bob to stay in the main road. However, the stubborn driver takes a shortcut through a nuclear testing site and wrecks his station wagon. With the family stranded in the middle of nowhere, Bob and Doug walk on the road trying to find some help. Bob is captured by an insane and sadistic member of a deranged evil family that lives nearby the spot. Doug returns to the trailer, and along the night the Carter family is attacked by a group of psychotic cannibal criminals. Absolutely trapped by the murderers, they have to fight to survive.
Original Title : THE HILLS HAVE EYES
Director(s) :
Wes Craven
Writer(s) : Wes Craven (written by)
Genre(s) : Horror
Length : 89 min | 86 min (cut)
Year : 1977
Country : USA
Langage : English
Coulor : Color
Ratio : 185 : 1
Sound : Mono
French Release : 1979-06-20
US Release : 1977-07-22
Aka(s) :
(original title) - The Hills Have Eyes
Argentina - La colina de los ojos malditos
Argentina - La pandilla abominable
Belgium (Flemish title) - De heuvelen hebben ogen
Belgium (French title) - La colline a des yeux
Brazil - Quadrilha de Sádicos
Canada (French title) - Le visage de la peur
Denmark - Slagterbanden
Spain - Las colinas tienen ojos
Finland - Yön silmät
France - La colline a des yeux
Greece (DVD title) - Aima stous lofous
Greece (transliterated ISO-LATIN-1 title) - Oi ktinanthropoi
Hungary - Sziklák szeme
Italy - Le colline hanno gli occhi
Japan - Sarandora
Mexico - La colina de los ojos malditos
Norway (video title) - Udyr må dø
Norway (video title) - Udyrene
Poland - Wzgórza maja oczy
Portugal - Os Olhos da Montanha
Serbia - Brda imaju oči
USA (original script title) - Blood Relations
USA (LD title) - Wes Craven's The Hills Have Eyes
West Germany - Hügel der blutigen Augen
Actors :
 
John Steadman Fred
Janus Blythe Ruby
Peter Locke Mercury (as Arthur King)
Russ Grieve Big Bob Carter
Virginia Vincent Ethel Carter
Suze Lanier-Bramlett Brenda Carter (as Susan Lanier)
Dee Wallace Lynne Wood
Brenda Marinoff Katy
Robert Houston Bobby Carter
Martin Speer Doug Wood
James Whitworth Jupiter
Michael Berryman Pluto
Lance Gordon Mars
Cordy Clark Mama
Flora Beauty
Striker The Beast
No comments.
All informations are coming from http://www.imdb.com
This page has been seen 9644 times.