THE HITCHHIKER'S GUIDE TO THE GALAXY (2005)
INFO
| REVIEW(S) | PICTURES | NEWS | DVDS |
VIDEOS (3)
|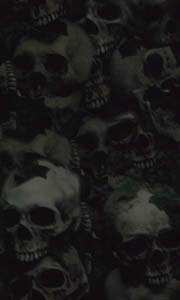 Everyone has bad mornings. You wake up late, you stub your toe, you burn the toast...but for a man named Arthur Dent, this goes far beyond a bad day. When he learns that a friend of his is actually an alien with advanced knowledge of Earth's impending destruction, he is transported off the Earth seconds before it is exploded to make way for a new hyperspace motorway. And as if that's not enough, throw in being wanted by the police, Earth II, an insane electronic encyclopedia, no tea whatsoever, a chronically depressed robot and the search for the meaning of life, and you've got the greatest adventure off Earth.
Original Title : THE HITCHHIKER'S GUIDE TO THE GALAXY
Director(s) :
Garth Jennings
Writer(s) : Douglas Adams, Douglas Adams
Year : 2005
Country : USA | UK
Langage : English
Coulor : Color
Ratio : 2.35 : 1
Sound : Dolby Digital| SDDS| DTS
French Released : 2005-08-17
US Released : 2005-04-29
Aka(s) :
The Hitchhiker's Guide to the Galaxy - USA (original title)
Guía del viajero intergaláctico - Argentina (video title) / Panama
Per Anhalter durch die Galaxis - Austria / Germany
À Boleia Pela Galáxia - Portugal (imdb display title)
Autostopem przez galaktyke - Poland (imdb display title)
Autostoperski vodič kroz galaksiju - Serbia
Bir otostopçunun galaksi rehberi - Turkey (Turkish title)
Galaxis útikalauz stopposoknak - Hungary
Guía del autoestopista galáctico - Spain
Guida galattica per autostoppisti - Italy
Guide galactique - Canada (video title) (French title)
Gyriste ton galaxia me otostop - Greece (transliterated ISO-LATIN-1 title)
H2G2: le guide du voyageur galactique - France
Haikerens guide til galaksen - Norway (imdb display title)
Le guide galactique - Canada (French title)
Liftarens guide till galaxen - Sweden
Linnunradan käsikirja liftareille - Finland
O Guia do Mochileiro das Galáxias - Brazil
Pöidlaküüdi reisijuht galaktikas - Estonia
Stoparski vodnik po Galaksiji - Slovenia (imdb display title)
Vodič kroz galaksiju za autostopere - Croatia
Actors :
Bill Bailey - The Whale (voice)
Martin Freeman - Arthur Dent
Mos Def - Ford Prefect
Sam Rockwell - Zaphod Beeblebrox
Zooey Deschanel - Trillian
Bill Nighy - Slartibartfast
Warwick Davis - Marvin
Anna Chancellor - Questular Rontok
Alan Rickman - Marvin (voice)
Helen Mirren - Deep Thought (voice)
Stephen Fry - Narrator / The Guide (voice)
Simon Jones - Ghostly Image
John Malkovich - Humma Kavula
Thomas Lennon - Eddie the Computer (voice)
Kelly Macdonald - Reporter
Mark Longhurst - Bulldozer Driver
Richard Griffiths - Jeltz (voice)
Dominique Jackson - Fook
Su Elliot - Pub Customer (as Su Eliott)
Ian McNeice - Kwaltz (voice)
Steve Pemberton - Mr. Prosser / Additional Vogon Voices (also as The League of Gentlemen)
Mark Gatiss - Additional Vogon Voices (as The League of Gentlemen)
Reece Shearsmith - Additional Vogon Voices (as The League of Gentlemen)
Jack Stanley - Lunkwill
Mak Wilson - Vogon Interpreter (voice)
Albie Woodington - Barman
Mason Ball - Creature Performer
Sarah Bennett - Creature Performer
Danny Blackner - Creature Performer
Hayley Burroughs - Creature Performer
Cecily Fay - Creature Performer (as Cecily Faye)
Aron Freeman - Creature Performer
Ian Kay - Creature Performer
Nikki McInness - Creature Performer
Mohsen Nouri - Creature Performer
Oliver Parham - Creature Performer (as Ollie Parham)
Nigel Plaskitt - Creature Performer
Lynn Robertson Bruce - Creature Performer (as Lynne Robertson Bruce)
Jerome Blake - Vogon Soldier
Milo Bodrozic - Vogon Soldier
Martin Dawson - Vogon Soldier
Dan Ellis - Vogon Soldier
Steve Grindle - Vogon Soldier
Art Hewitt - Vogon Soldier
Simon Hibbs - Vogon Soldier
Rob Horseman - Vogon Soldier
Mike Lewis - Vogon Soldier
Paul Nathaniel - Vogon Soldier
Tim Perrin - Vogon Soldier
Jessie Riley - Vogon Soldier
Tucker Stevens - Vogon Soldier
Ashley Stuart - Vogon Soldier
Ben Uttley - Vogon Soldier
Patrick Walker - Vogon Soldier
Spencer Wilding - Vogon Soldier
William Wollen - Vogon Soldier
Polly Jane Rocket Adams - London Citizen (uncredited)
Alex Argenti - Alien (uncredited)
Jane Belson - Extra (uncredited)
Peter Burroughs - Marvin (uncredited)
Ray Donn - Humma Worshiper (uncredited)
Susie Gossling Valerio - Daewoo Driver (uncredited)
Garth Jennings - Frankie Mouse (voice) (uncredited)
Rich Johnston - Congregation (uncredited)
Zoe Kubaisi - Benjy Mouse (voice) (uncredited)
Jim Lynn - London Citizen (uncredited)
Jason Schwartzman - Gag Halfrunt (uncredited)
Alisha Smith - Trillian DBL (uncredited)
Mark Rhino Smith - Pall Bearer (uncredited)
Sean Sollé - London Citizen (uncredited)
Mark Stevenson - Native American (uncredited)
James Thrift - London Citizen (uncredited)
Edgar Wright - Deep Thought Technician (uncredited)

No comments.
All informations are coming from http://www.imdb.com
This page has been seen 1572 times.