THE TWILIGHT SAGA: NEW MOON (2009)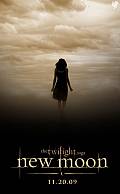 In the second installment of Stephenie Meyer's phenomenally successful TWILIGHT series, the romance between mortal and vampire soars to a new level as BELLA SWAN (Kristen Stewart) delves deeper into the mysteries of the supernatural world she yearns to become part of - only to find herself in greater peril than ever before.
Following Bella's ill-fated 18th birthday party, EDWARD CULLEN (Robert Pattinson) and his family abandon the town of Forks, Washington, in an effort to protect her from the dangers inherent in their world. As the heartbroken Bella sleepwalks through her senior year of high school, numb and alone, she discovers Edward's image comes to her whenever she puts herself in jeopardy. Her desire to be with him at any cost leads her to take greater and greater risks.
With the help of her childhood friend JACOB BLACK (Taylor Lautner), Bella refurbishes an old motorbike to carry her on her adventures. Bella's frozen heart is gradually thawed by her budding relationship with Jacob, a member of the mysterious Quileute tribe, who has a supernatural secret of his own.
When a chance encounter brings Bella face to face with a former nemesis, only the intervention of a pack of supernaturally large wolves saves her from a grisly fate, and the encounter makes it frighteningly clear that Bella is still in grave danger. In a race against the clock, Bella learns the secret of the Quileutes and Edward's true motivation for leaving her. She also faces the prospect of a potentially deadly reunion with her beloved that is a far cry from the one she'd hoped for.
With more of the passion, action, and suspense that made TWILIGHT a worldwide phenomenon, THE TWILIGHT SAGA: NEW MOON is a spellbinding follow-up to the box office hit.
Original Title : THE TWILIGHT SAGA: NEW MOON
Director(s) :
Chris Weitz
Writer(s) : Melissa Rosenberg (screenplay),  , Stephenie Meyer (novel 'New Moon')
Genre(s) : Adventure | Drama | Fantasy
Length : 130 min
Year : 2009
Country : USA
Langage : English | Italian
Coulor : Color
Ratio : 235 : 1
Sound : Dolby Digital| DTS
French Release : 2009-11-18
US Release : 2009-11-20
Aka(s) :
(original title) - The Twilight Saga: New Moon
Argentina - Luna nueva
Bulgaria (Bulgarian title) - Здрач 2: Новолуние
Brazil - A Saga Crepúsculo: Lua Nova
Brazil (short title) - Lua Nova
Canada (French title) - La saga Twilight: Tentation
Canada (English title) (fake working title) - Untitled Sports Movie
Czech Republic - Twilight sága - Nový mesíc
Germany - New Moon - Biss zur Mittagsstunde
Denmark (alternative transliteration) - Twilight: Ny Måne
Estonia - Videviku saaga - Noorkuu
Spain - La saga Crepúsculo: Luna nueva
Finland - Twilight - Uusikuu
Finland - Uusikuu
France - Twilight: Chapitre 2 - Tentation
Georgia - Bindi 2
Greece (transliterated ISO-LATIN-1 title) - The twilight saga - Nea selini
Croatia - Sumrak saga: Mladi mjesec
Hungary - Alkonyat: Újhold
Iceland - Nýtt tungl
Japan (English title) - New Moon: Twilight Saga
Japan - Nyû mûn - Towairaito sâga
Lithuania - Jaunatis
Latvia - Jauns meness
Mexico - Crepúsculo: Luna Nueva
Norway (literal title) - Under en ny måne
Peru - Luna nueva
Poland - Saga 'Zmierzch': Ksiezyc w nowiu
Poland - Saga 'Zmierzch': Księżyc w nowiu
Portugal - A Saga Twilight: Lua Nova
Portugal - A Saga de Twilight: Lua Nova
Serbia - Sumrak saga: Mlad mesec
Russia - Сумерки. Сага. Новолуние
Sweden - New Moon (Twilight 2)
Slovenia - Mlada luna
Slovakia - Nov
Turkey (Turkish title) - Alacakaranlik efsanesi: Yeni ay
Ukraine - Сутiнки 2. Сага: Новий мiсяць
USA (informal title) - Twilight 2
USA (closing credits title) - Twilight Saga: New Moon
USA (informal title) - Twilight: New Moon
Venezuela - Luna nueva
Actors :
 
Kristen Stewart Bella Swan
Christina Jastrzembska Gran
Robert Pattinson Edward Cullen
Billy Burke Charlie Swan
Anna Kendrick Jessica
Michael Welch Mike
Justin Chon Eric
Christian Serratos Angela
Taylor Lautner Jacob Black
Ashley Greene Alice Cullen
Jackson Rathbone Jasper Hale
Russell Roberts Mr Berty
Cam Gigandet James (archive footage)
Michael Sheen Aro
Jamie Campbell Bower Caius
Christopher Heyerdahl Marcus
Peter Facinelli Dr Carlisle Cullen
Curtis Caravaggio Rogue Vampire
Daniel Cud Felix
Charlie Bewley Demetri
Rachelle Lefevre Victoria
Elizabeth Reaser Esme Cullen
Kellan Lutz Emmett Cullen
Nikki Reed Rosalie Hale
Chaske Spencer Sam Uley
Gil Birmingham Billy Black
Graham Greene Harry Clearwater
Adrien Dorval Bob Marks - Neighbor
Michael Adamthwaite Chet
Alexander Mendeluk Frat Boy
Hunter Jackson Frat Boy
Gavin Bristol Frat Boy
Sean McGrath Frat Boy
Tyson Houseman Quil Ateara
Kiowa Gordon Embry Call
Alex Meraz Paul
Bronson Pelletier Jared
Edi Gathegi Laurent
Tinsel Korey Emily
Corinna Russo Italian Child
Mariagrazia Pompei Italian Mother (as Maria Grazia Pompei)
Roberto Marchetti Italian Father
Alessandro Federico Police Officer
Dakota Fanning Jane
Justine Wachsberger Gianna - Receptionist
Cameron Bright Alec
Noot Seear Heidi
Peter Lambert Romeo (voice) (uncredited)
Rana Morrison Lady Leaving Theatre /Lady Attending Festival (uncredited)
Justin Shenkarow (voice) (uncredited)
Hugo Steele Biker (uncredited)
Tom Townsend Grath (uncredited)
Giovanna Yannotti Native American (uncredited)
All informations are coming from http://www.imdb.com
This page has been seen 42729 times.