THE WOLFMAN
New Look at "WOLFMAN" Stars in Period Piece Drag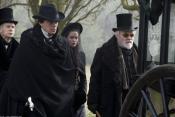 Today a brand new pic was revealed from Universal Pictures'
"THE WOLFMAN"
that features not only a better look at
Benicio del Toro
in his period piece costume, but also your first ever look at Anthony Hopkins in the film that is scheduled for release on April 3, 2009.
Directed by
Joe Johnston
, Like the 1941 original that starred
Lon Chaney Jr.
, new pic will be set in Victorian England. Del Toro will play a man who returns from America to his ancestral homeland, gets bitten by a werewolf and begins a hairy moonlight existence.
From Empire Online.
Click on thumbnail to enlarge :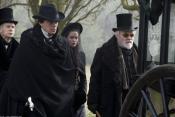 Source : cinema-France.com / Bloody-disgusting.com
No comments.