THE WOLFMAN
"THE WOLFMAN" Moves To February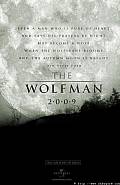 The remake of
"THE WOLFMAN"
has its fair share of production problems.
Mark Romanek
of One Hour Photo was originally slated to helm the feature but dropped due to budget disagreements with Universal (though the film has a reported budget of around $80million).
Joe Johnston
was brought in as a replacement.
The most recent problem has been however, with the release. The movie has been pushed back several times and seemed to have finally stopped with a November 2009 date.
Well, Fangoria has word that Universal is punting the film into early 2010. February 12, 2010 to be exact and baring any other movies, Wolfman stands alone.
"THE WOLFMAN"
is due out February 12, 2010.
Source : horror-movies.ca / filmsactu.com
No comments.