Filmography from : Tim Faraday
Actor :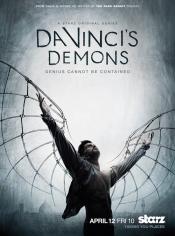 Da Vinci's Demons
,
Peter Hoar
(9 episodes, 2014-2015),
MJ Bassett
(2 episodes, 2013),
David S Goyer
(2 episodes, 2013),
Jamie Payne
(2 episodes, 2013),
Paul Wilmshurst
(2 episodes, 2013),
Jon Jones
(2 episodes, 2014),
Charles Sturridge
(2 episodes, 2014),
Mark Everest
(2 episodes, 2015),
Alex Pillai
(2 episodes, 2015),
Colin Teague
(2 episodes, 2015),
Justin Molotnikov
(1 episode, 2014), 2015
In a world where thought and faith are controlled, one man fights to set knowledge free. The secret history of Leonardo da Vinci's tantalizing life reveals a portrait of a young man tortured by a gift of superhuman genius. He is a heretic intent on exposing the lies of religion. An insurgent seeking to subvert an elitist society. A bastard son who yearns for legitimacy with his father. He finds himself in the midst of a storm that has been...
Brand New-U
,
Simon Pummell
, 2015
...
Snatch
,
Guy Ritchie
, 2000
Turkish and his close friend/accomplice Tommy get pulled into the world of match fixing by the notorious Brick Top. Things get complicated when the boxer they had lined up gets the shit kicked out of him by Pitt, a 'pikey' ( slang for an Irish Gypsy)- who comes into the equation after Turkish, an unlicensed boxing promoter wants to buy a caravan off the Irish Gypsies. They then try to convince Pitt not only to fight for them, but to lose for...